2020-21 Opening Weekend at Toggenburg Mountain! 
Welcome to the 2020-21 snowsports season!  Our Toggenburg snowmakers, with a little help from Mother Nature, have made it possible for us to kick off the winter season this Saturday!  We look forward to welcoming you back for a fun season of skiing and snowboarding at Toggenburg Mountain.   
Hours of Lift Operations:
(December 19th-December 27th) 
Saturday/Sunday (12/19-20): 8:30am-4pm 
Monday-Wednesday 12/21-23):  9:30am-4pm 
Thursday (12/24): $25/Ticket Day (Cash Only) 
($5 will go to the local food bank) 
 Friday (12/25), (Christmas Day): Closed 
Saturday/Sunday (12/26-1/2): 8:30am-9pm 
Please visit www.skitog.com for operating hours after January 2 nd. 
We anticipate having the Main Trail and Learning Center open this weekend. 
Lessons will be available. 
For more information regarding opening weekend please call 315-683-5842 
Guest Services opens 30 minutes prior to the lift start time. 
  
Important Covid-19 Related Information​ 
Due to the Covid-19 pandemic you will notice some operational changes this season.  
Advanced reservations for season passholders are recommended for New York State contact tracing purposes and maximum capacity mandates.  Links for season passholders reservations are below this section. 
From December 19th through December 24th, ticket purchasers should call 315-683-5842 to book advanced tickets. Beginning December 26th please use the online ticket portal on the Toggenburg Mountain website. 
Face coverings and physical distancing protocols are in place except when you are in motion on the mountain or when eating at a table.
If you live in the same household or arrive in the same vehicle you can ride the lifts together.  If not, the lift will be single capacity.  Please remember to physical distance at all times, especially while in the lift line.  Please be patient as waits for the chairlift may be longer than usual this season.
Please limit time inside the lodge to 15 minutes,  Unless you have a seasonal locker or plan to use a day locker.   Please leave personal belongings in your vehicle.  Come dressed to ski & ride.  If you rent ski or snowboard boots you will be given a plastic bag for your shoes and you can store them in the rental shop.
We have added additional staff for cleaning and sanitation purposes.  Please help us by busing tables before you leave that area.
Mountain Side, is our new outside food option.  It is conveniently located outside of the Foggy Goggle.  There will also be outside seating with new fire pits.
Making Online Season Passholder Reservations 
Season Passholder Online Reservations Directions Document: 
Microsoft Word - SP RESERVATION DIRECTIONS.docx (webflow.com) 
  
Season Passholder Online Reservation Portal: 
Products (aluvii.com) 
  
*Season Passholders will need to stop by the outside ticket window or Guest Services to pick up a daily reservation sticker to adhere to your pass. 
  
Lift Tickets 
To purchase an advance lift ticket between December 19 th and December 23 rd, please call Guest Services at 315-683-5842.Starting December 26 th lift tickets will be at the regular season rates and can be purchased on the Toggenburg Mountain website. 
  
The Foggy Goggle Opening 
The Foggy Goggle will be open on December 18 th & 19 th for dinner only from 4pm-9pm.  Due to Covid-19 the seating capacity has been reduced.  Reservations are recommended. 
Please call 315-683-5842, extension 21. 
  
Giving Back to Our Community 
December 24 th (Christmas Eve) is our annual fundraiser for Fabius-Pompey Outreach. The day ticket will be $25 (cash only), of which $5 will be donated to this wonderful organization. We encourage guests to drop of non-perishable food on this day. $25 ticket is only available for purchase at Toggenburg on the day of the event. 
  
The safety of our guests and staff is our number one priority. We look forward to seeing you this season at Toggenburg Mountain to create a lifetime of memories. 
  
Toggenburg Mountain Staff 
Greek Peak Mountain Resort
2000 NYS Rte 392
Cortland, NY 13045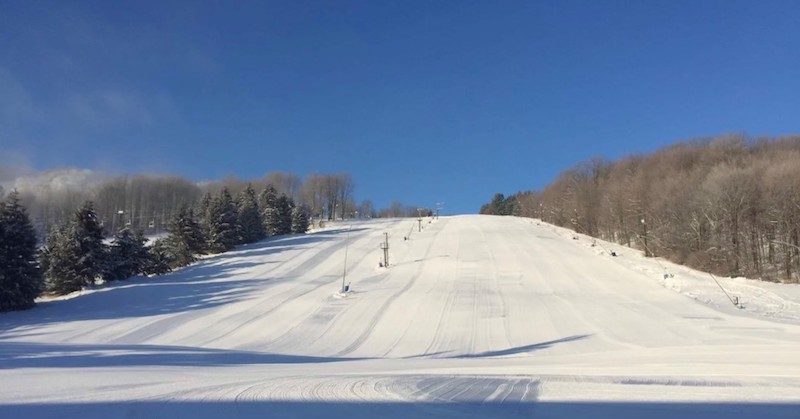 Toggenburg Mountain - Photo from 2019-20 Season