BASECAMP FESTIVAL RETURNS TO SWAIN RESORT ON JUNE 17TH
Expanded Music Lineup Announced
EAST AURORA, NY- The 2nd Annual Basecamp Festival returns to Swain Resort with a full day of activities and an expanded music line-up. On Saturday, June 17th, the festival will include free beer tastings, dozens of vendors, activities, and music from four bands all at the base of the mountain at Swain Resort in Swain, NY.
The Basecamp Festival music line-up will feature a full day of roots and americana music from some of the region's most popular bands. Headlining the festival will be Buffalo-based, PA Line. PA Line will bring its unique harmonies and grassroots sounds to the festival. Preceding PA Line will be Ithaca, NY based, Freight. Freight, formed in 2020, will deliver fans original sounds and danceable folk-rock. Opening up the festival will also be Springville, NY based Kody & Herren and Buffalo's Jungle Steve.
In addition to the music, Basecamp will offer fans chair lift rides, outdoor recreation, hiking, craft beverages, and a wide-array of local artisan vendors. There will also be free craft tastings from 2-4 pm. Basecamp will also offer fans the opportunity to camp at the resort after a full-day at the mountain.
"We are thrilled to partner with 42 North to create this event. We both share the same passion for great music, great beer, and outdoor adventure", states Suzy Male, Director of Marketing for Swain. "We are thrilled to create an annual summer event at Swain," she added. "This year we are offering even more to our attendees, including a corn hole tournament and add-on classes with HikYoga. It's a great way to kick off summer!"
Advance tickets are available for $25 at https://swain.com/basecamp/
About Swain Resort
Swain Resort, located in Swain, NY, is the oldest independently run ski resort in New York State. Swain Resort, located just over an hour from both Buffalo and Rochester, is proud of its history and our ski community and love the indy culture that makes Swain great. For more information on Swain Resort, visit www.swain.com.
About 42 North Brewing Company
42 North, based in East Aurora, NY, was founded in 2015. 42 North prides itself on brewing artisan ales and lagers and has a genuine passion for outdoor sports and adventure. For more information on 42 North, visit www.42northbrewing.com.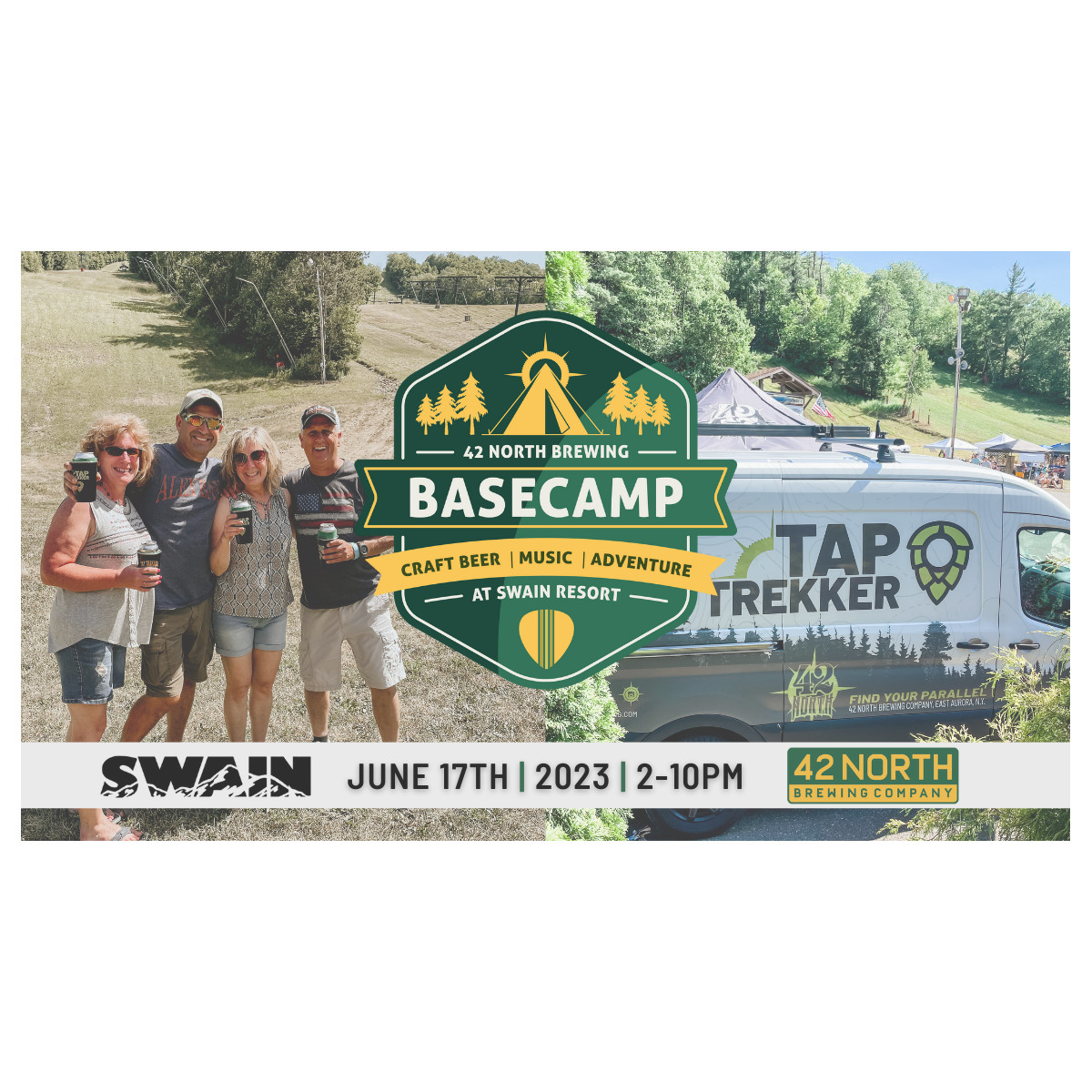 Swain Basecamp Festival