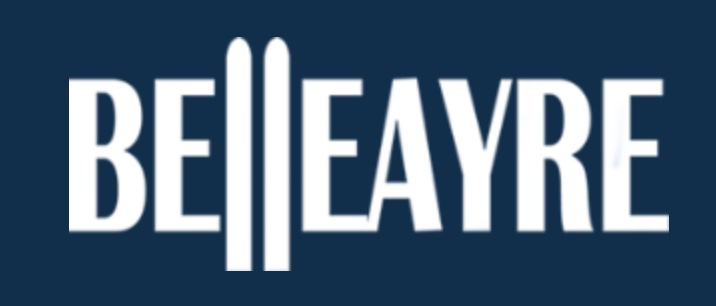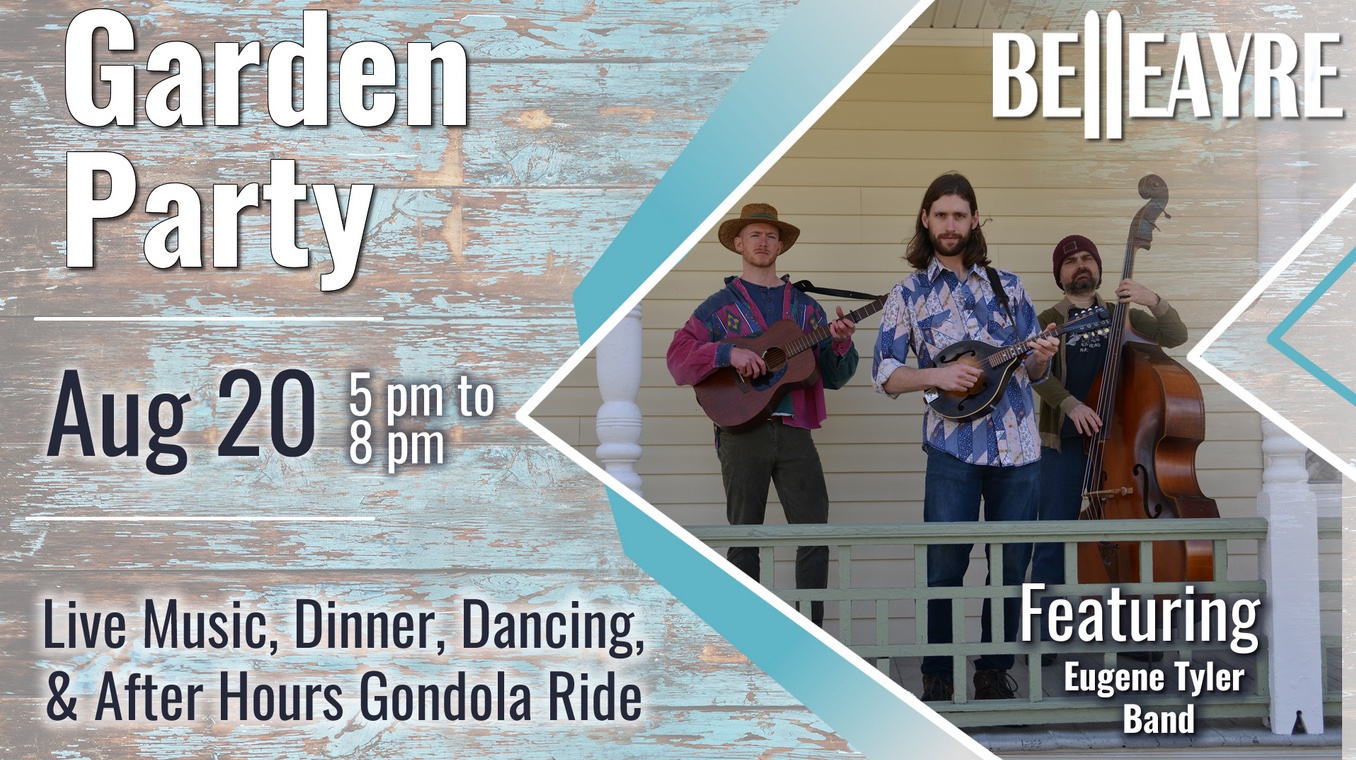 Garden Party Set for August 20
Music by Alt-Country/Bluegrass Eugene Tyler Band
Join us for an evening of music, food, and gondola rides at the summit of Belleayre on August 20.  This after-hours event will feature the alt-country/bluegrass music of the Eugene Tyler Band, a ginger soy sliced pork tenderloin & chicken marsala for dinner, and a ton of views at the top of the mountain from the Sunset Lodge. 
Reservations are needed by noon on Monday, August 15
About Eugene Tyler Band
Eugene Tyler Band are just three mama's boys with anxiety problems trying to find catharsis in high-energy, irreverent songs. Eugene Gardner (vocals/guitar/mandolin), Daniel Tyler (guitar/banjo), and Marc Jaffee (upright bass/vocals) all grew up within a couple of miles of each other in downstate New York, and since 2015 they've been on the road, performing at landmark clubs like Sony Hall and the Knitting Factory and bluegrass festivals like Ossippee Valley and Thomas Point Beach, building a dedicated fanbase stretching from Colorado to Maine. 
Their newest album, "Thanks Cats", was released in 2021. It's the band's third full-length and first live release, recorded at some of their very last shows of 2020.  "It's the most honest record we've ever made," says singer/songwriter Eugene Gardner. "Most of our time is spent on the road, drinking in the sun and making music with friends, some new and some we've known forever. We've made a lot of memories at those shows and hopefully these songs make people feel like they're right there with us."
---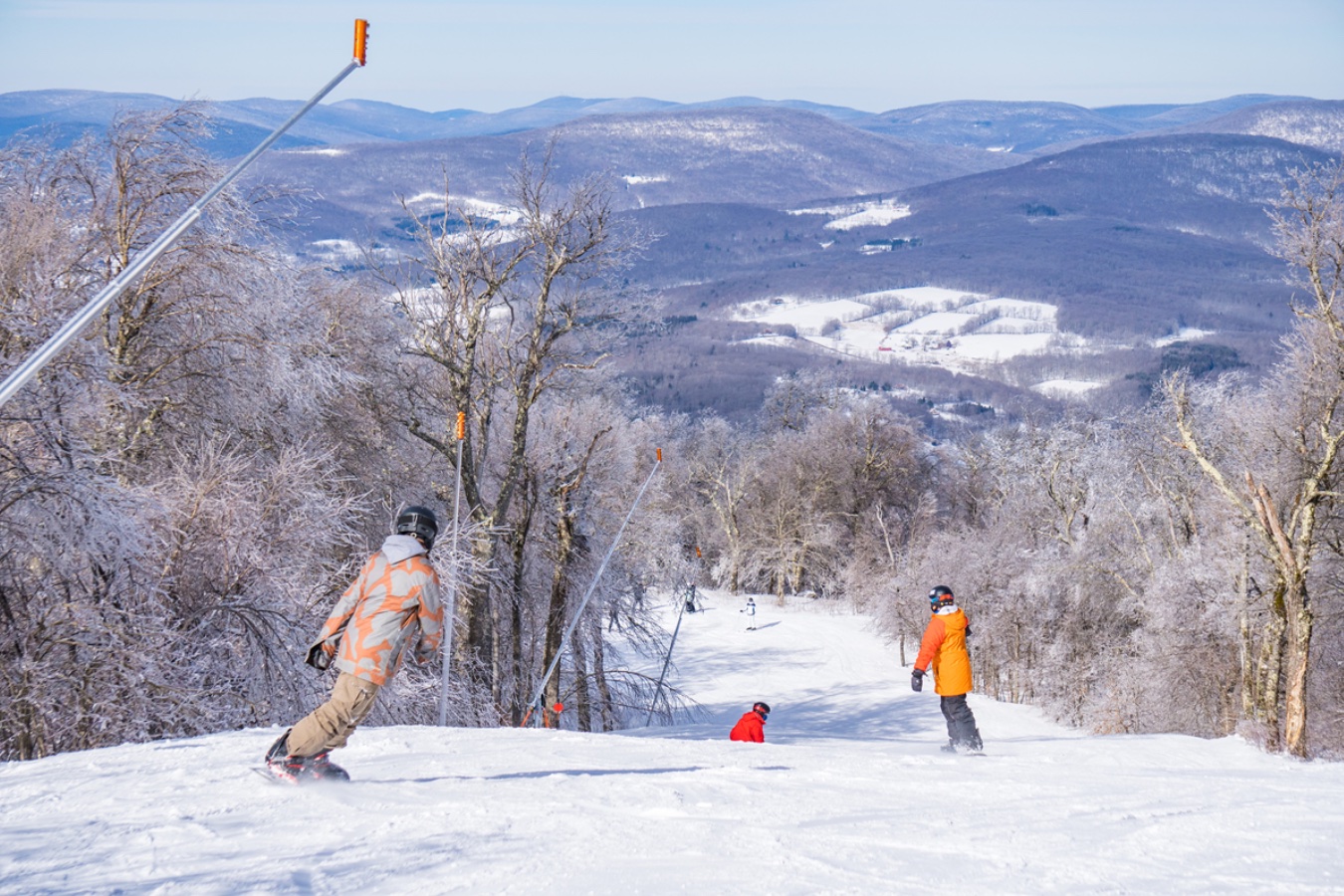 Use Your 2022/23 Season Pass Right Now
Did you know that your 2022/23 winter season pass comes with some awesome perks that you can use this summer?  You can enjoy:
Free scenic gondola rides at Belleayre, Gore, and Whiteface.
Three free bonus gondola tickets to share - one ticket to be used at each of the ski mountains.
Half-price scenic gondola ticket to share.
Discounts at the Belleayre Beach.
10% off in the retail shops at all ORDA stores.
10% off food and beverages (excluding alcohol).
Perks are constantly being updated - be sure to check back.
---
Family Adventures At The Mountain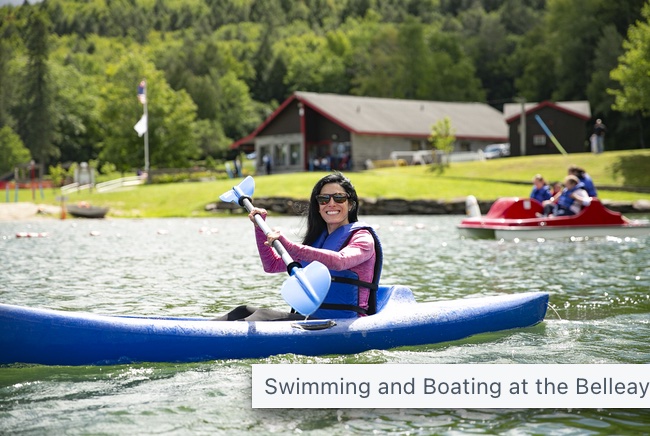 Belleayre Beach
Make a splash at the Belleayre Beach.  Located in the hamlet of Pine Hill, the beach offers fun activities for the entire family- including swimming and boating.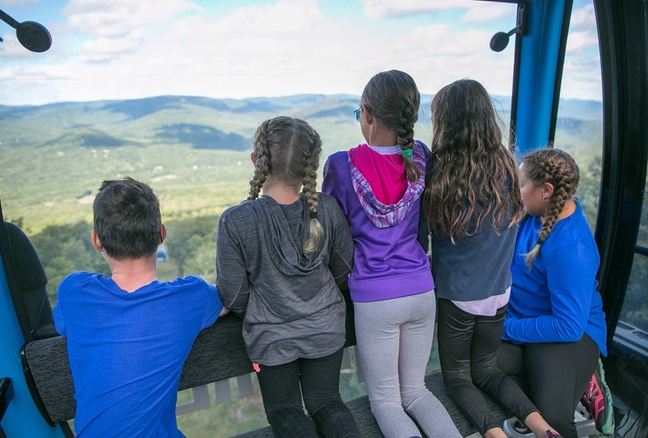 Scenic Gondola Rides
Ride the Catskill Thunder Gondola this summer.   Once you are at the summit, take in the spectacular views for the Catskill Forest Preserve.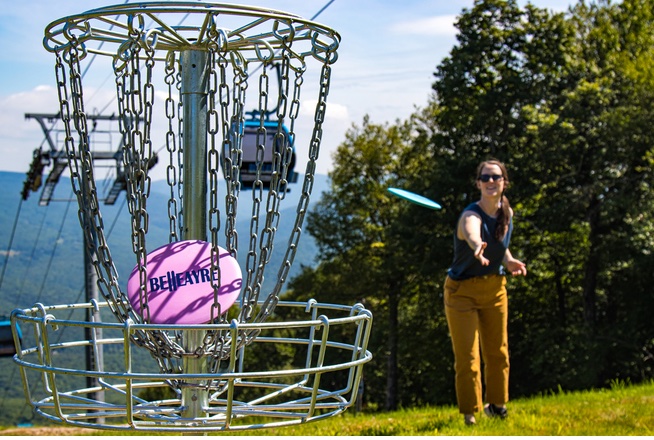 Disc Golf
Disc Golf is a fun and exciting activity for all ages and athletic ability.  Our 18 hole course utilizes the entire mountain- the lower 9-holes around the Discovery Lodge and the upper 9-holes across the summit.  Grab your friends and family, follow the course from one "hole" to the next.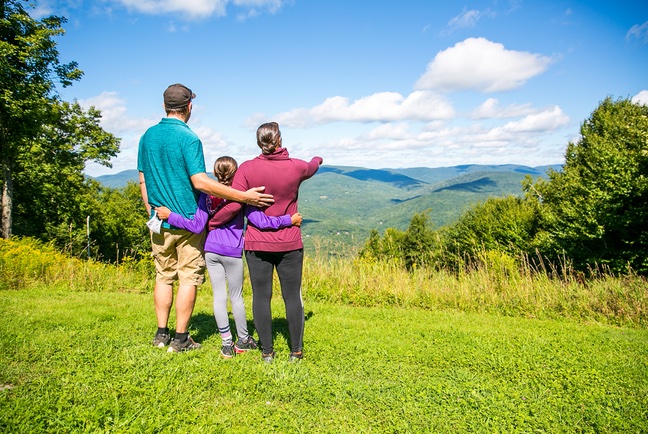 Hiking
Start your next adventure at Belleayre Mountain! You will find something for everyone from challenging uphill climbs to the summit, to family-friendly strolls.  While on the trails, make sure you keep an eye out for our interpretive signage and our story walk across the summit.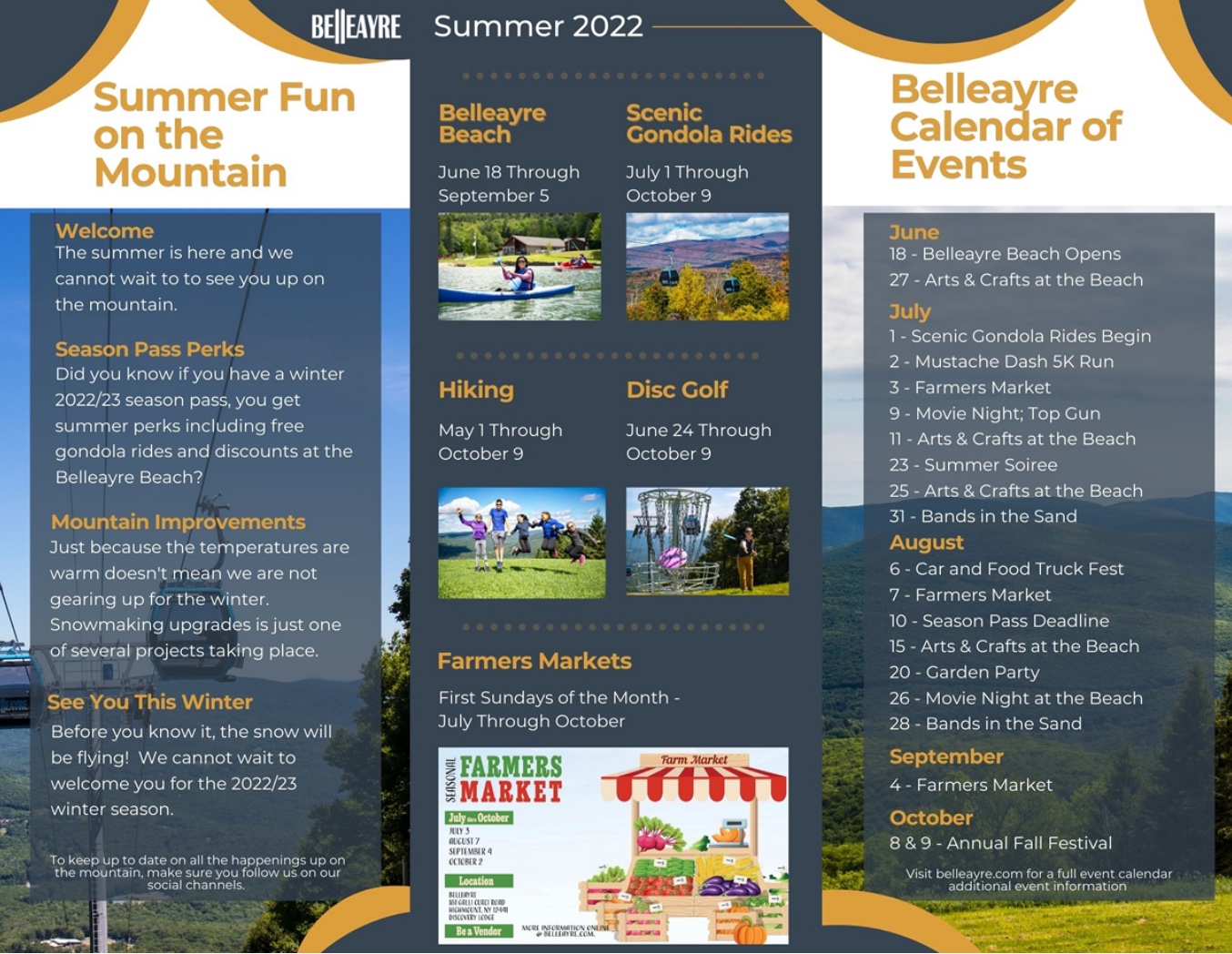 Belleayre offers fun events and activities all through the summer and fall months.  Make sure you visit the calendar of events on belleayre.com to stay up to date on all the happenings.
Upcoming Calendar
August 15 - Arts  & Crafts at the Beach
August 20 - Garden Party - Featuring the music of the Eugene Tyler Band
August 26 - Movie Night at the Belleayre Beach
August 28 - Bands in the Sand
October 8 & 9 - Fall Festival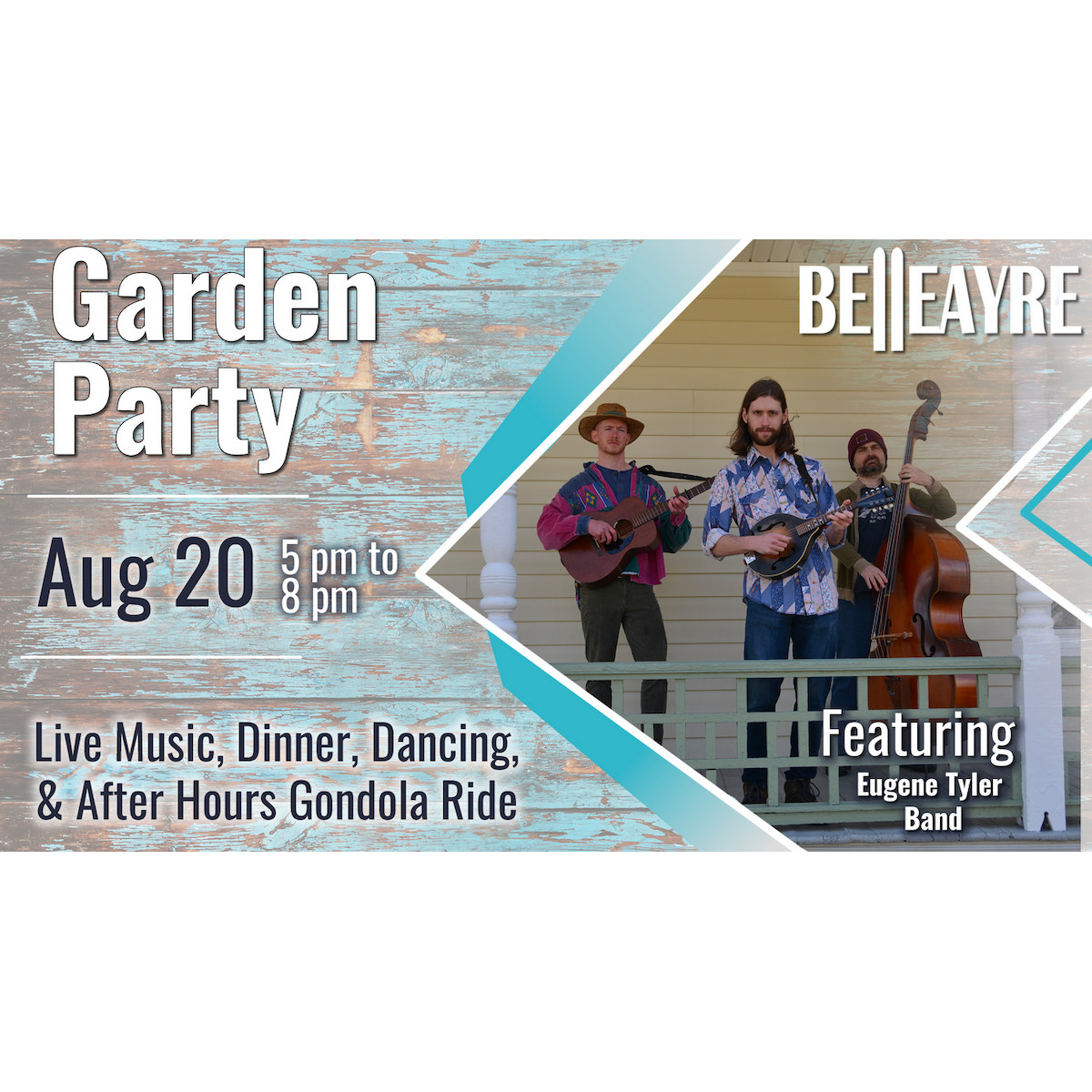 Belleayre Mountain