CELEBRATING 10 YEARS OF ADVENTURE
10 DAYS OF FUN FOR OUR 10TH SEASON
July 5th-15th
We're unleashing 10 days of non-stop fun to mark our incredible 10th season of operation. Get ready for thrills, laughter, and memories that will last a lifetime!
And that's not all - we're giving away some major prizes to lucky adventurers who join the fun during the event days. Enter to win a gift certificate for 2 Zipline Canopy Tour Passes, 4 day passes to Roseland Waterpark, or 2 Learn to Ride passes at Roseland Wake Park.
So, mark your calendar and join us for 10 days of fun as we celebrate a decade of adventure!
Saturday, 7/8- National Be a Kid Again Day
Nothing feels more like childhood than jumping on a trampoline. Get in touch with your inner kiddo with discounted Rock Wall and Bungee Trampoline tickets for just $7 per person.
Sunday, 7/9- Summer Summit Sunday
Spend the day at the summit with us soaking up the summer fun! Climb in the park, take a zip tour, and enjoy lawn games with your family and friends.
Monday, 7/10- 10 for the 10th! Group sizes reduced for just one day!
For one day only, we're reducing our group size to 10 or more to receive our discounted group rate! Grab your friends and make a reservation to receive a $10 per person discount for all groups of 10 or more on Monday, July 10th. Reach out to a group sales representative for full group booking policies at aerialgroups@bristolmt.com.
Tuesday, 7/11- ZIPping through 10 years!
For one day only, all zip tours participants will get an extra entry into our 10th anniversary raffle!
Wednesday 7/12- Whacky Wednesday
Get a little wild and crazy and dress up in your whackiest outfit for your day of adventure at the park! Take a picture of yourself in your whacky outfit at the park, post and tag us on social media in the picture and get an extra entry into our 10th anniversary raffle!
Thursday 7/13- BMAA Teams up with the RPO
Join us at the base of Bristol Mountain for an outdoor concert with the RPO! Tickets are just $25 for adults and free for kids 18 and under. Come early to scale the Rock Wall or take a turn on the trampolines. Concessions available all evening. Concert tickets available on the RPO website.
Friday 7/14- Summit Social
After your climb, stick around for Happy Hour at the Summit from 4pm – 6pm. It's time to mingle, make new friends, and meet others who share your passion for adventure. Grab a drink from the Summit Center Patio, and unwind, connect, and share stories with like-minded thrill-seekers around the campfire. Don't miss out on this incredible opportunity to forge unforgettable connections. Let the Summit Social be the highlight of your adventure!
Saturday, 7/15- 10th Anniversary Cake Celebration
Help us round out our 10th anniversary celebration with a 10th anniversary cake at 1:30pm for all our guests. We'll also draw the winners for the raffle prizes!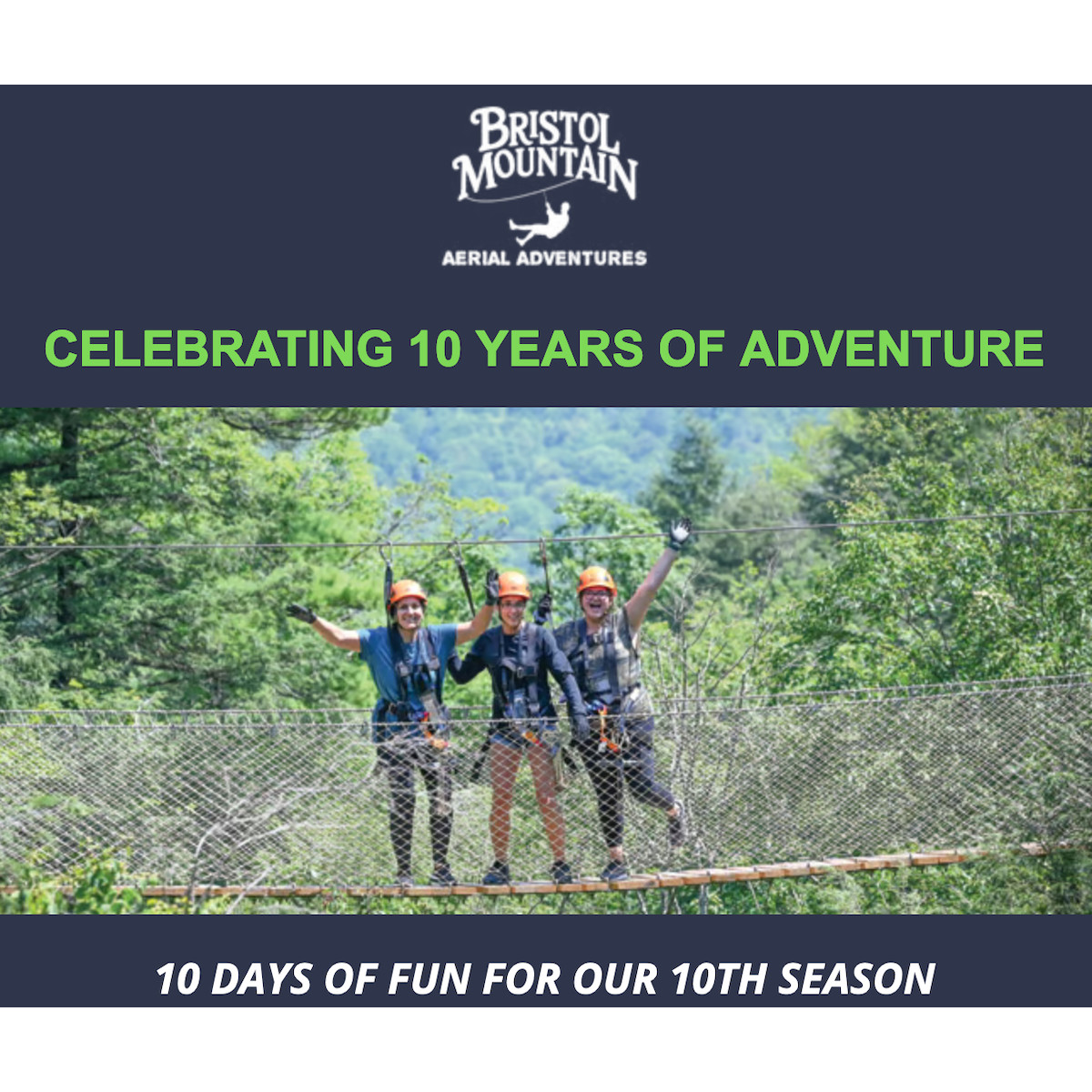 Bristol Mountain