Sunny Skies Await Us
THIS WEEKEND!

This weekend will start quite differently than the last! The frigid temperatures of a few days ago have given way to much more comfortable weather. We are looking at sunny skies with highs in the low 40s on both Saturday and Sunday. Come enjoy this lovely weather and make some turns with us!
Excited for the big game on Sunday? Make the day even better by spending it on the mountain - there is plenty of time to get a day of skiing in before the game starts. Be sure to purchase your lift tickets online for the best rate and to save time at the ticket window. Stay tuned to our Mountain Report for daily updates!
Buy everything you need for a trip to Catamount right from our website: Lift tickets, lessons, rentals, and tubing!
---
WEEKEND OUTLOOK!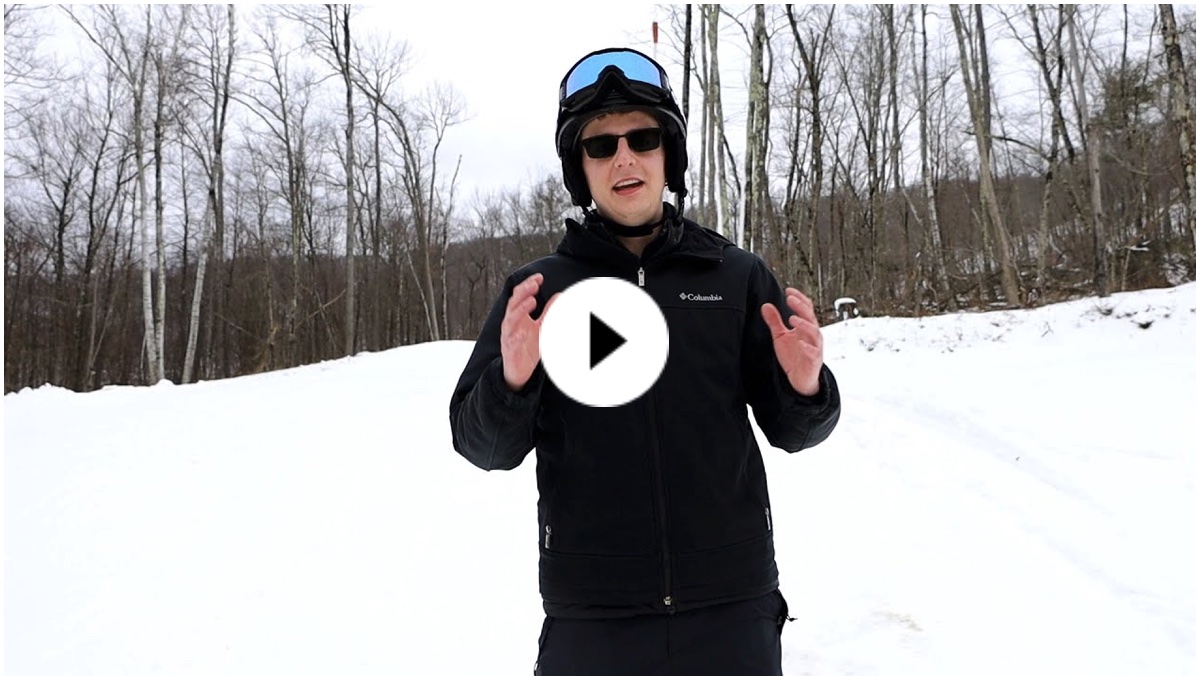 The forecast looks great for the weekend! Look for today's inclement weather to move out overnight with a nice Friday on tap. We're looking at sunny skies and temperatures reaching a high of 40 degrees on both Saturday and Sunday. 
Our terrain continues to expand - we opened up Marty's Run this week, bringing our total weekend trail count up to 31 trails.
Things have warmed up, but we are taking every chance we get to continue making snow. We had the snow guns going on Catapult earlier this week and will continue to work on resurfacing our terrain and getting additional trails open as soon as the weather and conditions allow.
Stay tuned to our Mountain Report for daily updates!
---
Buy ONLINE and SAVE!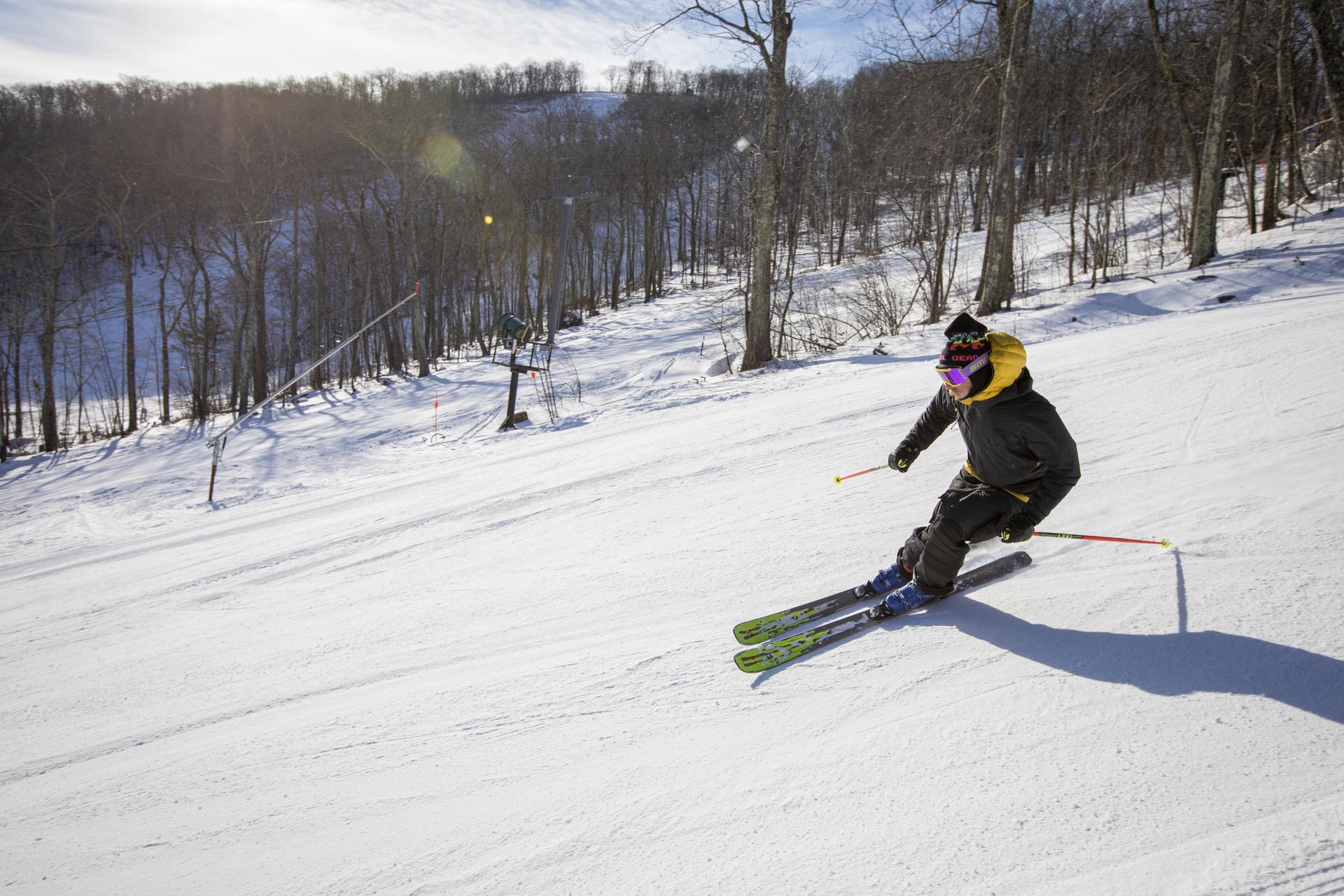 Purchase your lift tickets online and in advance for the BEST available rates. This also saves time when you arrive at the resort. Scan your order confirmation at one of our automated kiosks in front of the Catamount Lodge and skip the ticket window line. If you already have RFID cards, you can reload them online and head right to the lift upon arrival.
---
Upcoming EVENTS!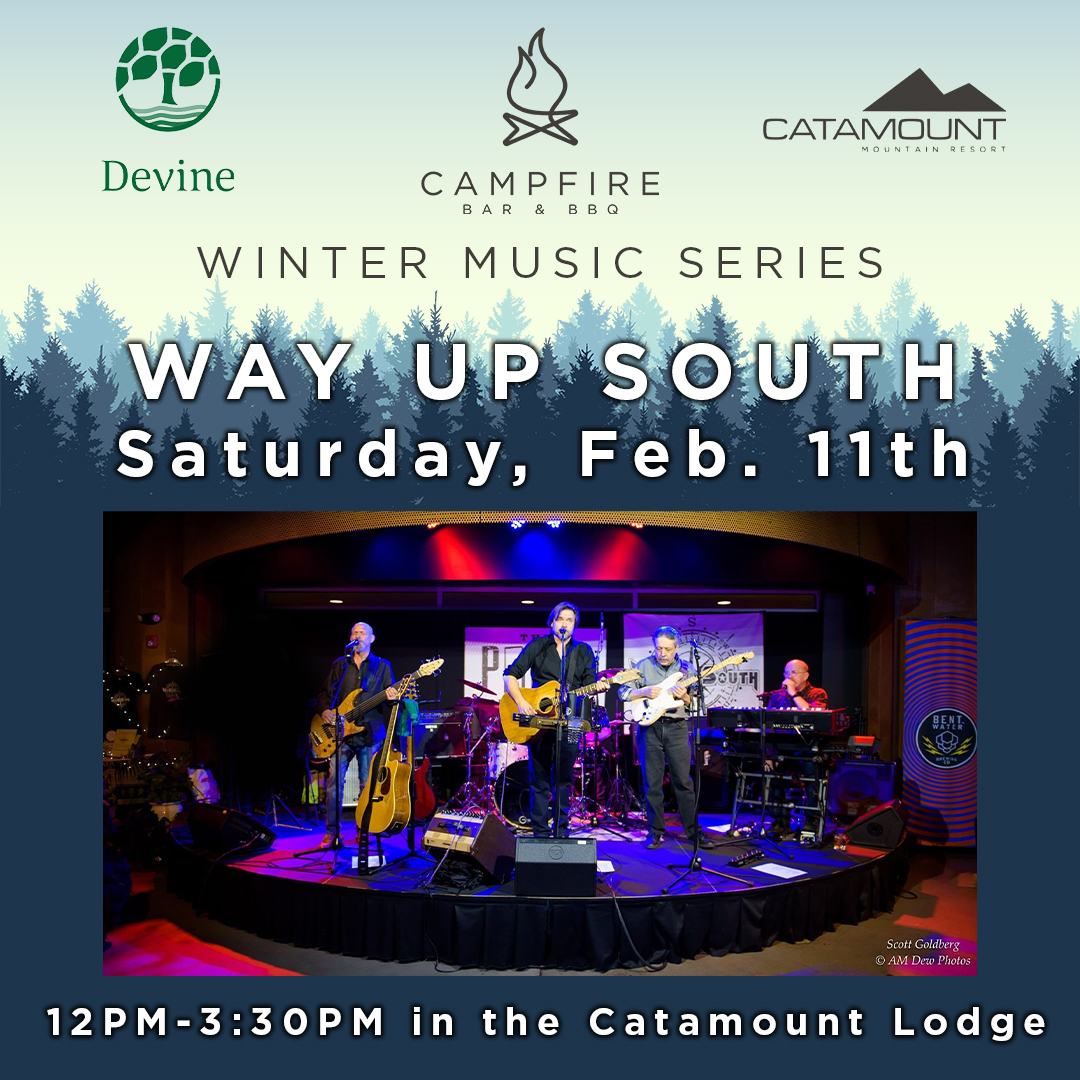 Way Up South
Saturday, February 11th
12PM-3:30PM
Join us for live music in the Catamount Lodge! Grab some tasty food from Campfire BBQ and enjoy some great live music by Way Up South from 12PM-3:30PM.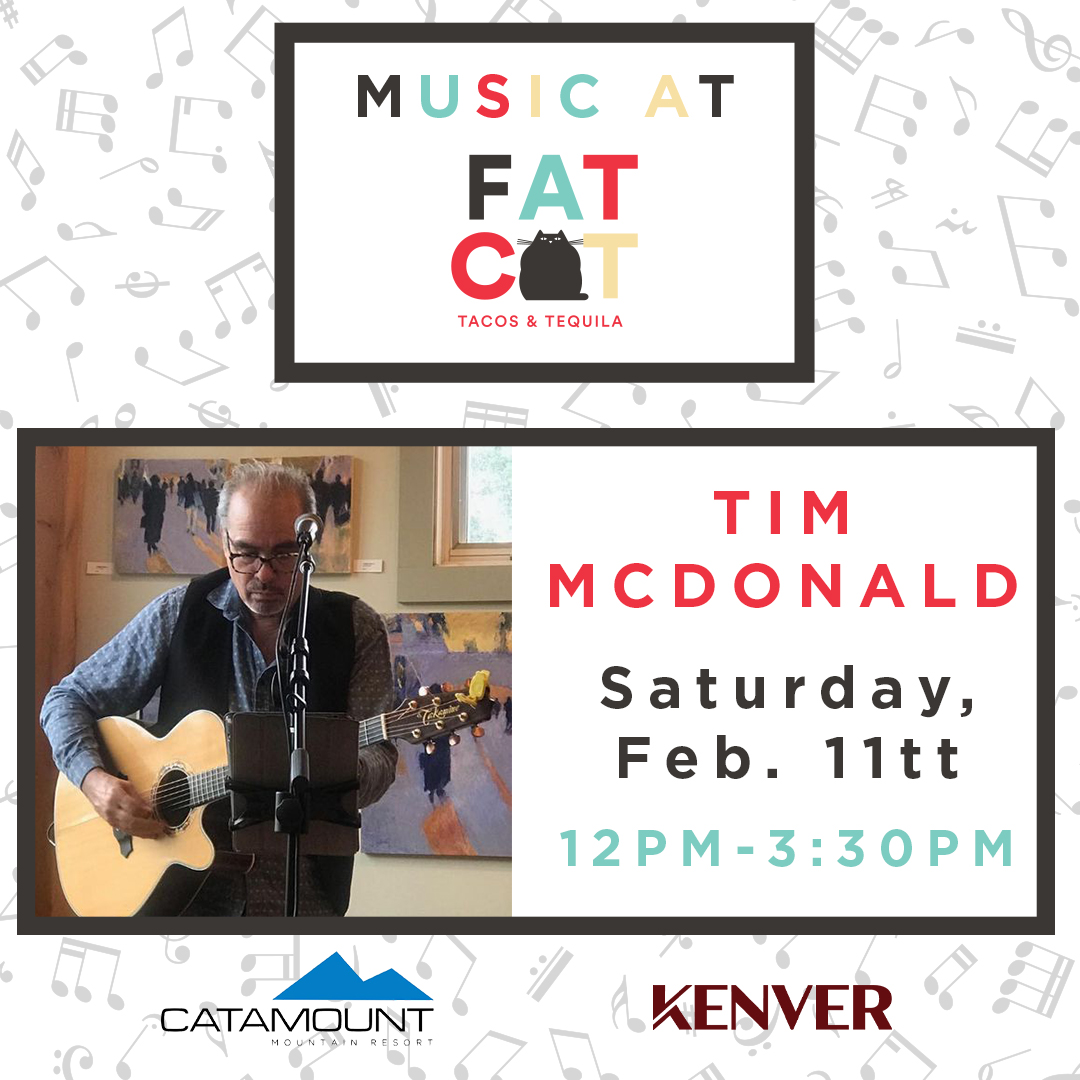 Tim McDonald
Saturday, February 11th
12PM-3:30PM
Music, Tacos and Tequila! Enjoy a tasty meal in Fat Cat while listening to some great tunes by Tim McDonald from 12PM-3:30PM.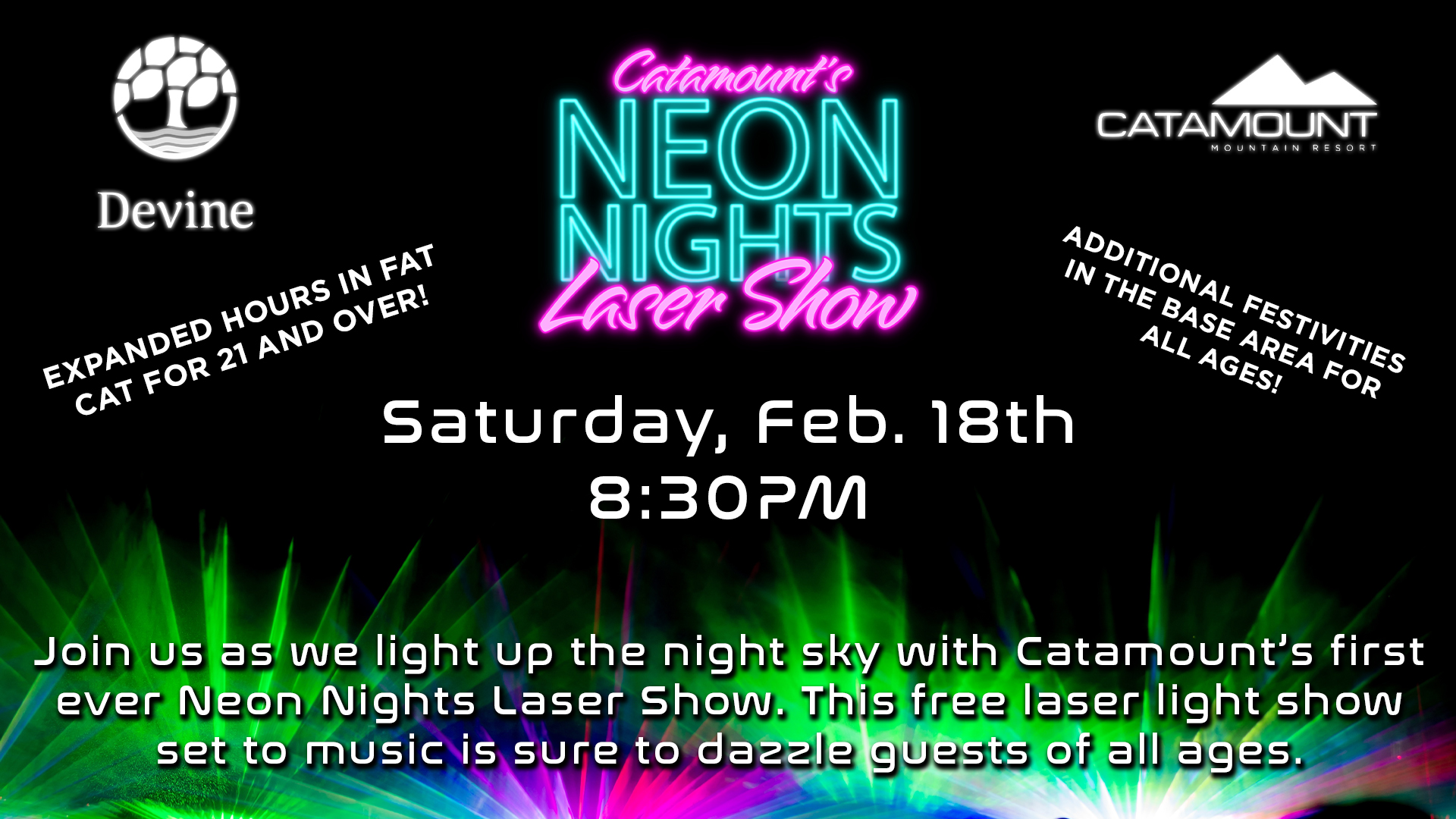 Neon Nights Laser Show
Saturday, February 18th
Save the date for Catamount's first ever "Neon Nights" Laser show! This free show is sure to dazzle guests of all ages and is unlike anything before witnessed at Catamount! Look for expanded hours at Fat Cat for ages 21 and over, while the base area patio is transformed into a festive party atmosphere. Be sure to join us for night skiing and stick around for the show.
---
Plan your February VACATION with us!

The President's Day holiday week will be here before you know it - plan your trip to Catamount now to ensure availability. Lessons, Rentals, Lift Tickets, and Tubing are all available to purchase online and may sell out — so don't miss out, buy now!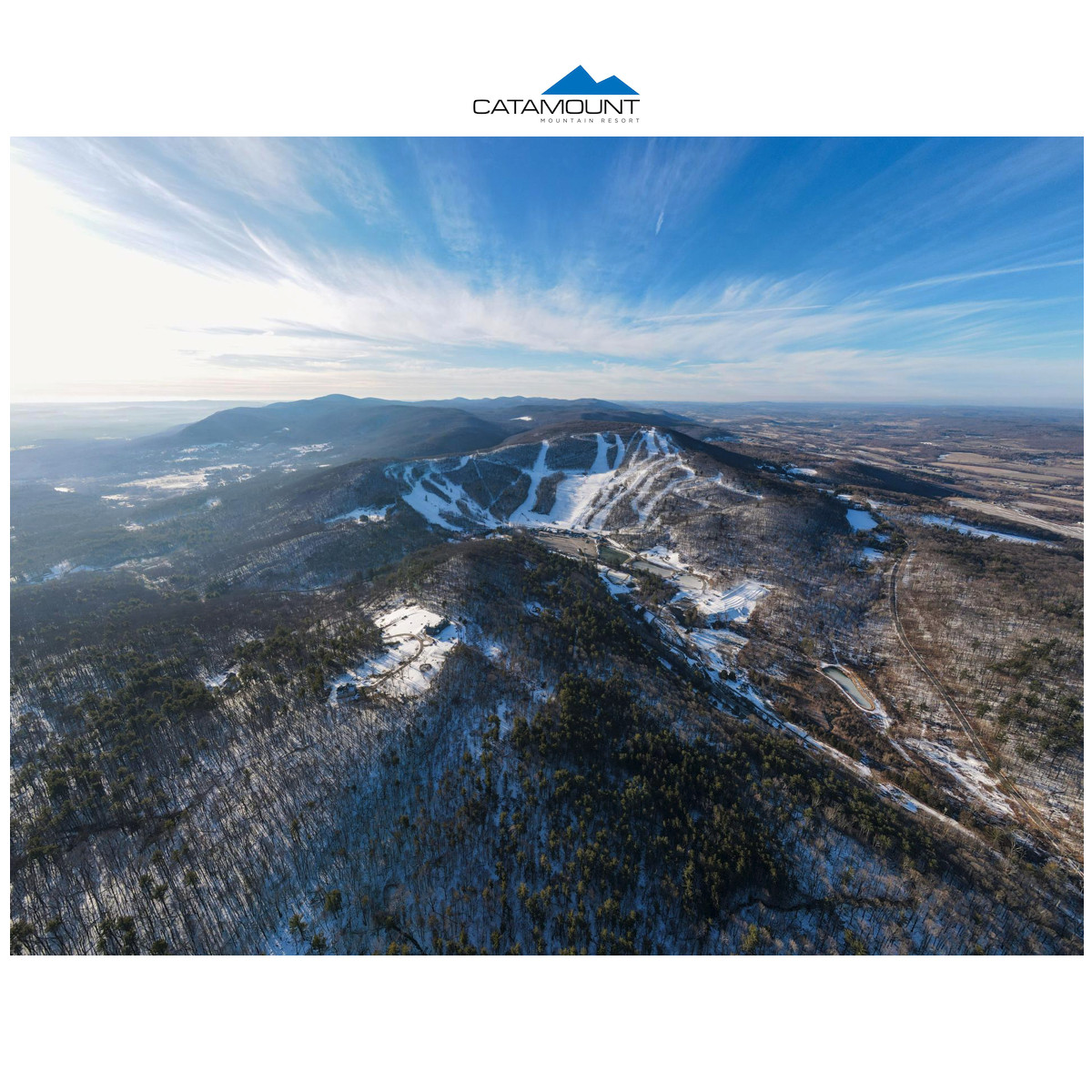 Catamount