The weather is quickly changing over to fall! Celebrate a season full of vibrant colors mixed with the crisp, fresh mountain air of Greek Peak. We invite you to be our guest and enjoy a variety of socially safe activites; from wine tours to Sky View Tours, outdoor movies and even a film festival! There is no doubt that fall is fabulous at our Adirondack style resort.
 
1 or more night stay (Friday - Sunday only)
Including - 1 sky view tour ride/person and 1 - 3-hour pool pass per person
Pricing - 
$319.20 - 1 night stay in a sleep 4 (inclusive of tax and resort fee)
$507.04 - 2 night stay in a sleep 4 (inclusive of tax and resort fee)
Call 800-955-2754 to book your room today!! Visit GreekPeak.net for photos and details for our Adirondack Style Guest Rooms.
FINGER LAKES WINE TOUR
Always a sell out event! Don't miss out on a fun filled weekend in the Finger Lakes with a 5-hour wine tour excursion! Call 855-737-3219 to make your reservation today. Please note all people attending must be 21 years of age.
CALENDAR OF EVENTS
There is plenty to see and do during your stay with us in the months of September & October! Take advantage of the perfect opportunity for a unique date night with our Sunset Zip and Zip! We also have thrills and chills in the month of October, with our "Freak at the Peak" events! Book either an exhilarating Haunted Coaster Ride or a bone-chilling Zombie Zipline!
Sunset Zip and Sip
September 11th, 18th, & 25th
October 1st - 4th, featuring four evenings of film screenings! 
FREE evening screenings of amazing independent films from around the world.

Freak at the Peak: Zombie Zip Line
October 9th, 10th, 16th, & 17th
Ski Swap - Save the Date!
October 9th, 10th, & 11th
Proceeds to benefit the Greek Peak Ski Club.
Due to COVID there will be no Hops Event this year.
Weekly Specials at Trax
From our Monday Chicken Wing Challenge to Friday Fish Frys, all things tasty and delicious are happening at Trax Pub and Grill. 
Freak at the Peak: Haunted Coaster Rides
October 23rd, 24th, 30th, & 31st
IF3 Ski & Snowboard Film Festival - Save the Date!
October 24th
Screenings of award-winning ski and snowboard films.
 
SKI & STAY GETAWAY!!
Stay tuned for details on our website.  The snow will be here soon and Greek Peak is the perfect setting for your winter getaway!  Get outdoors or cozy up inside! Either way, the perfect winter wonderland is waiting for you!
2177 Clute Road, Cortland NY 13045
www.greekpeak.net 1-800-955-2754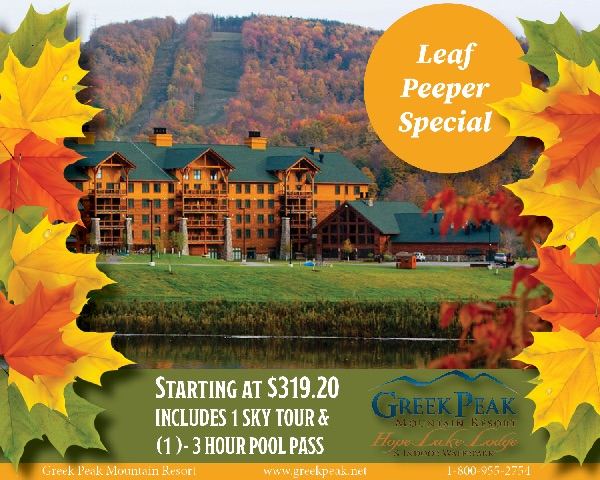 Greek Peak Mountain Resort