Four Olympic Medalists Set To Compete In The Toyota 2022 Freestyle Aerials U.S. National Championships Rescheduled To March 13th at Bristol Mountain
Canandaigua, NY (February 28, 2022) – Bristol Mountain and U.S. Ski & Snowboard are excited to announce that the Toyota 2022 U.S. Aerials Freestyle Championships have been rescheduled to Sunday, March 13, 2022. Four Olympic Medalists are planning to compete in the event including three Olympic Gold Medalists Chris Lillis (former Bristol Mountain Freestyle Team Member), Ashley Caldwell, and Justin Schoenefeld and Olympic Bronze Medalist Megan Nick. The event was rescheduled to accommodate athlete schedules. 
 "We are so excited to be able to welcome Bristol Mountain's own Chris Lillis back to celebrate his incredible performance in Beijing and his Olympic Gold Medal!" exclaimed Bristol Mountain Vice President Steven Fuller. "We can't wait to welcome the world's top talent to Bristol Mountain to compete for the National Championship."
The event will bring some of the world's top aerial skiers to compete for the U.S. National Championship. Spanning four days, including training, the championships will culminate with finals on Sunday, March 13, 2022, providing spectators ample opportunity to cheer as athletes soar to heights of more than 50 feet above the Bristol Valley. In freestyle aerials, athletes compete a series of acrobatic maneuvers in the air after skiing off jumps that range in height from seven-feet, six-inches, to thirteen-feet, six-inches. Athletes are judged based on their amplitude (height and distance in the air), form (style and execution), and landing.
Bristol Mountain was host to the 2020 U.S. Aerial Freestyle Championships on March 14, 2020, where Eric Loughran and Ashley Caldwell were named U.S. National Champions. A full replay of the 2020 event can be viewed on Bristol Mountain's YouTube Channel (youtube.com/BristolMountain).
Guests who wish to attend the 2022 Freestyle Aerials U.S. National Championship must purchase a Freestyle Event Parking Pass. Parking Passes are limited and are expected to sell out. For more information visit: https://www.bristolmountain.com/freestyle-aerials-national-championship/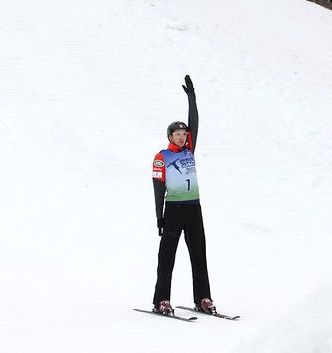 Bristol Mountain Freestyle Event