Greek Peak Mountain Resort cuts ribbon for Grand Opening of Chair 3;
announces Intro2Snow program for new skiers
CORTLAND, New York (December 22, 2022) – Greek Peak Mountain Resort recently announced the Grand Opening of Chair 3 for the 2022-23 season, sponsored by M&T Bank. Chair 3 currently serves the Alpha slope of the mountain and was upgraded to a triple-chair to better serve the growing number of new skiers coming to the resort.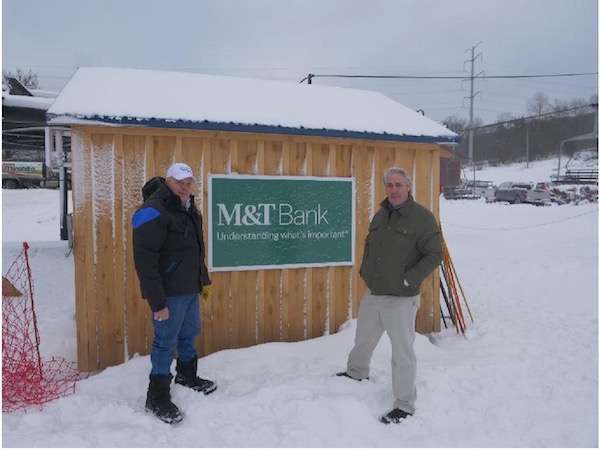 Pictured are Greek Peak president, Wes Kryger, with Peter Newman, Regional President at M&T Bank. M&T Bank is a proud sponsor of the recently upgraded Chair 3, a triple-chair lift at Greek Peak's Alpha slope, which will play host to many new skiers this year through Greek Peak's brand new Intro2Snow program.
 
"If there was anything positive that came from the pandemic, it's the number of new skiers who came outside and took to the slopes to learn how to ski at Greek Peak," said Wes Kryger, president of Greek Peak Mountain Resort. "The upgrade of Chair 3 enables us to serve many more new and beginner-level skiers on Alpha and speaks volumes to our commitment to making Greek Peak a lifelong, family destination."
Peter Newman, Regional President at M&T Bank added, "Greek Peak is one of Central New York's premier recreational resorts, and we at M&T Bank are proud to partner with them and support this latest improvement, which will benefit beginning skiers of all ages."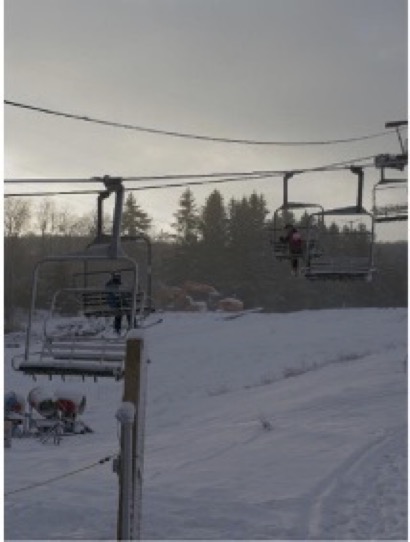 The timing of the ribbon-cutting for Chair 3 coincides with the beginning of a new Intro2Snow program being offered at Greek Peak this season. Intro2Snow is a progressive beginner level program geared toward the new skier or snowboarder to help promote a life-long
love of snow sports. This program gives a new skier or boarder everything they need for their first time on the slopes, all in one package, which includes a 90-minute beginner group lesson, rental equipment, and a full day of access to our Beginner Zone. By the end of your first Intro2Snow visit, you should be able to:
Put on your equipment.

Ride the Boardwalk lift.

Turn left and right.

Control your speed.

Stop and start from the top to the bottom of the Ligo slope.
Another great feature of the Intro2Snow program is that you are investing in future opportunities to access the entire mountain. Each Intro2Snow session you purchase gets banked towards the cost of a Beginner Zone or Individual Season Pass. Invest in yourself and build your skills, then upgrade to the full mountain experience.
To learn more about this program and other investments happening at Greek Peak Mountain Resort, call 1-800-955-2754 or visit their website at www.greekpeak.net
ABOUT GREEK PEAK MOUNTAIN RESORT: A mountain of memories awaits you at Greek Peak Mountain Resort, central New York's largest ski resort. Greek Peak Mountain Resort was founded in 1958 and has remained at the leading edge of the ski industry with forty-four ski trails and eleven glades, six chair lifts, two surface lifts, a tubing conveyor lift, a beginners' slope, and new and improved terrain parks. The four-season family resort is located in New York's scenic Finger Lakes region, conveniently just minutes from Interstate I-81. Under new ownership, the mountain has many new amenities and recent investments including The Lookout at Hope Lake, a stand-alone indoor/outdoor event space overlooking a beautiful lake and mountains, Carvers Steakhouse in Hope Lake Lodge, Trax Pub and Grill restaurant with an expansive 6,000 square foot deck in the main ski lodge, Waterfalls Spa, a quad chairlift, updated ski and board equipment in the rental shop, a state of the art ski and board tuning facility, and a new Campground at Hope Lake that debuted in Summer 2022 with 26 full service (water, electric, sewer) RV sites and another 15 Junior RV sites with water and electric access.
Greek Peak Mountain Resort