It's Time to Get on Snow!
Opening Weekend Is Here
December 12-13, 2020
8:30am-4pm
It's time to kick off the 2020-21 snowsports season at Greek Peak!  Our staff has been working very hard in preparation for this season to ensure a safe and fun on and off snow experience.  Please help us have an awesome season by embracing the new changes!   This weekend we will open 7 trails this weekend.  More details are below.
 
What You Need to Know for This Weekend?
Safety First:
Face coverings and physical distancing of at least 6, including in lift lines is required per NY State Covid-19 mandates. Limit in building time to no more that 30 minutes at a time.  Scroll down to see what other measures we have put into place for the safety of our staff and guests.
Lift Hours:  8:30am-4pm (Guest Services opens at 8am)
Anticipated Trails: Elysian Fields, Karyatis, Stoic, Meadow, Platonic, Lower Platonic and Alpha.  Call the Snow Phone for trail, lift  and conditions updates at 800-365-7669 or visit Current Conditions and Webcams at Greek Peak Mountain
Important for Season Passholders: This weekend reservations will not be required. If you have already picked up your 2020-21 season pass you can proceed direct to the lift.  If you need to purchase a season pass your can do so online by clicking this link Season Ski Passes | Greek Peak Mountain Resort
Important for Ticket Purchasers:  Please visit our new outside ticket windows to purchase your ticket when you arrive.
Ticket Options This Weekend
All Day Ticket: $66 
2pm-4pm Ticket: $35
Lessons: 
Private Lesson Only this weekend.  All ages and abilities based on open terrain at 10am, 12pm & 2pm.
Everyone taking a lesson will be required to complete a Health Survey card along with a temperature check before the lesson begins.  Those who cannot ride a chairlift on their own will remain in the terrain with the surface lifts.
Please arrive 30 minutes prior to your lesson time to settle in and get fitted for rentals gear.  Please call Guest Services at 844-846-9572 to book your private lesson time in advance.
Rentals:
The Rental Shop will be open this weekend.  Please stop by the new Outside Ticket Windows or Guest Services to purchase rentals.  If you have a private lesson booked and require equipment please arrive at Rentals at least 30 minutes prior to your lesson time.
Early Season Snow Tubing at the Adventure Center:
We will have 2 lanes open for snow tubing fun this weekend.
3 Hour Snow Tubing Ticket: $30
Ages 3+.  Must be at least 42" in height.
For more information or to purchase snow tubing tickets please call 866-376-3907.
 Saturday:  11am-6pm
Sunday: 11am-3pm
Ask about winter guided zip line tours and mountain coaster rides.
Food Options This Weekend:
Enjoy dining at Trax Pub & Grill for lunch and dinner.  Fast Trax will also be open for quick grab & go options. You may also order food to go from Trax through our Chow Now app for curbside/deck side delivery. Trax Pub & Grill Online Ordering (chownow.com)
We anticipating opening Carvers Steakhouse on Friday, December 18th.   In the near future we will open Fresh Trax in the A-Frame for delicious ski in-ski out food options.
What's New This Season?
Watch for details on the new reservation-based system for season passholders and ticket purchasers in the near future. 
You know the drill. 
As mentioned about face coverings are required at all times when on Greek Peak property except when in motion on the slopes and went dining at one of our food & beverage facilities. Physical distancing of 6' or more is also necessary when near guests you don't live with or arrived to the mountain with in the same vehicle.  This policy is not debatable.  It is a New York State mandate that we must comply with to remain open.
Here's the scoop on the lifts.
You may ride a lift at maximum capacity with anyone you currently live with or you arrived in the same vehicle with to Greek Peak.  Anyone can ride any lift as a single passenger at any time. Your comfort this season is our priority.  The Visions Quad chairlift is now a double unless you arrived together or live together, then it can seat up to four passengers.  The triple and double chairs are now rated as single lifts unless you live together or arrived together.  There will be signs at the lift maze to direct you.
Inside seating.  To remain in compliance with NY State Covid-19 mandates please limit sitting time at inside tables to 30 minutes when inside to warm up. We've added an electronic system that will count the number of people in the base building at all times so we stay under the capacity limits.  Please leave all personal belongings including empty gear bags, backpacks and coolers in your vehicle.  Your vehicle is your new base camp unless you are a season locker holder or your plan to use a daily locker inside the Katalima building. 
We've added outside ticket windows, portable restrooms and food options.
Guest Services Hours of Operation Through This Weekend:
Friday: 9am-5pm
Saturday:  8am-4pm
Sunday: 8am-4pm
844-846-9572
See you on the slopes!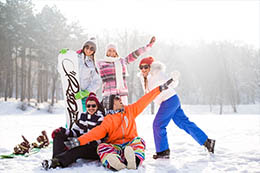 SKI & STAY GETAWAY!!
Stay tuned for details on our website.  The snow is here and Greek Peak is the perfect setting for your winter getaway!  Get outdoors or cozy up inside! Either way, the perfect winter wonderland is waiting for you!
Greek Peak Mountain Resort
2000 NYS Rte 392
Cortland, NY 13045
greekpeak.net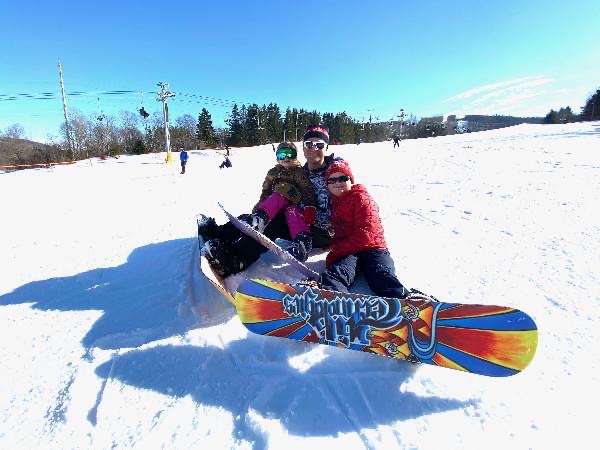 Greek Peak Mountain Resort