Join us on July 4, 2020 for a Drive In Fireworks Show!
Visible from Holiday Valley Parking Lots, The Inn at Holiday Valley, Tamarack Club, Wildflower, Fox Ridge and Alpine Meadows Complexes
Even though Summer Fest is cancelled for 2020 we still will have FIREWORKS on the 4th!!!
Watch a spectacular show from the comfort of your vehicle or from your Holiday Valley Accommodations, starting at approximately 9:45 PM.
Drive In Fireworks Show Parking Map
Holiday Valley & Ellicottville
offer many opportunities to be outdoors and explore.
Chairlift Rides, Hiking & Biking Trails, E-Bike, Golf , Mountain Coaster, Aerial Adventures
The Double Black Diamond Golf Course is a pleasing blend of a mountain and flat terrain. The relatively level front nine plays longer and is built around a series of ponds and bunkers.
The back nine winds its way through the base of the mountains and provides spectacular views. The fairways are well manicured and narrow and this nine provides a very stern test of golf. The greens are carefully manicured to provide a true putting surface.
Birdie 2 Days of Golf Pkg Starting at $135* pp do
Eagle 3 Days of Golf Package Starting $311.50* pp do
Maple Leaf 1 Day of Golf Package Starting at $129* pp do
Get ready for the most fun you'll have this year. The Aerial Park is a series of platforms and "bridges" in a 5 acre section of the woods near the Tannenbaum Lodge. The platforms are built in the trees and the bridges and zip lines connect the platforms. The bridge may be a log, hanging chunks of wood or other obstacles or ladders and the challenge is to get across to the next platform. It is not all strength; it is more strategy and balance.
Villaggio Pop Up Dining this Weekend at Sky High
Friday, Saturday & Sunday from 12 pm - 5 pm!
Join us on Saturday or Tastings from
Ellicottville Brewing Co & The Winery of Ellicottville
Book a Sky High Adventure  Lodging Package
Enjoy a chairlift ride to Spruce Lake. You may explore Spruce Lake & the many hiking trails accessible near Spruce Lake, and walk down the trail or ride back down the chairlift. Sorry, dogs are not allowed on the chairlift. During the COVID pandemic, masks are required to ride the chairlift and only one rider per chair except for family members who are living together. Purchase lift ride tickets at the Sky High Harness Shop.
Book a Lodging Chairlift Ride Pkg Starting $77.50* pp do
Mister Happy Gem Mining Sat/Sun
Targeted to children as young as 2, the experience mimics old fashioned panning for gold. Each miner purchases a bag of sand that contains gems. The contents of the bag are dumped into a frame with a screen on the bottom. Miners wash the sand away with water that runs through a 65 foot long sluice and the treasures are left in the pan.
Book a Room To Roam Pkg & get a WYNMBA Trail Map for FREE
The 4-5 mile "race loop" starts at the Holiday Valley Training Center and goes up gradually to the top of Cindy's. From there it goes across the ridge line of the resort where you can choose to ride the wider and more forgiving cross country trails or skinny winding singletrack to the top of Eagle, Cochran Pond at the top of Morning Star, and into the Tannenbaum area. 
Explore the miles of Hiking and Multi use trails that pass through and surround Holiday Valley.
Or explore the Slopes and Trails of Holiday Valley after taking a lift up on the Spruce Lake Chairlift.
Exterior Entrances
Private Patio/Balcony
View of Fireworks Show from Hotel
Indoor/Outdoor Pool & Outdoor Hot Tub Open sign in for swim session at Front Desk.
Surrounded by Double Black Diamond Golf Course
Pet Friendly Rooms Available.
Kitchenette in Deluxe Hotel Rooms
Full Kitchens in all Suites
Ellicottville Oasis Spa
John Harvard's Brew House
View of Fireworks Show from Hotel
Outdoor Pool & Hot Tubs Open social distancing required
Holiday Valley Rental Properties
Fully Equipped Kitchens in all accommodations
Units for 2 - 10 people
Units available with views of Fireworks Show
Limited Access to Holiday Valley Public Pools
Call for Reservations
1-800-323-0020
*Starting at Package prices quoted based on double occupancy in a Resort Standard Room at the Inn at Holiday Valley
Holiday Valley Public Pool Complex
Our 3-pool complex features a toddler pool, a lap pool and an activity pool with a slide and diving board and several multi-tiered sun decks. Pools are now open through Labor Day, Sept 7 weather permitting. We have implemented several procedures to reduce risks for our employees and guests.
New York State requires bathers to stay at least six feet apart, unless they are members of the same group. We are limiting occupancy of the pools advance reservations are recommended for the Public Pools.
The Public Pools are open 11AM to 7 PM daily. There are 2 swim sessions: 11AM to 2:30PM
and 3PM to 7PM. We will close from 2:30 to 3:00 to clean and disinfect.
Purchase A Public Pool Pass in Advance
By Villaggio/Stock the Freezer.com
Brought to you by Villaggio/Stock the Freezer.com this new concierge service will streamline and simplify your vacation plans in Ellicottville.
Simply book your vacation rental, and let them do the rest. From groceries to prepared foods, beverages to a breakfast package—it will all be waiting for you when you arrive. Just place your order 48 hours before check-in and they will have everything waiting for you.
Holiday Valley Resort | PO Box 370, Ellicottville, NY 14731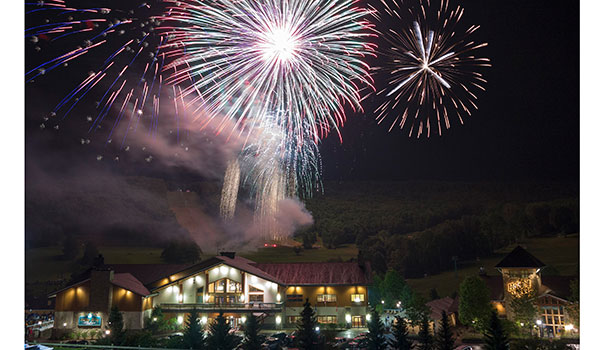 Holiday Valley Resort