Your Summer Adventure Begins at Belleayre!
The warm months have arrived, and we cannot wait to see you here at the mountain! Tons of summer adventures await, and each of them start right here at Belleayre. The long days will bring a plethora of activities and events to the mountain, starting with our summer concert series every Friday Night from July through the start of September. We also have lined up a movie night at the Belleayre Beach featuring the original Jaws, brunch, a running race, the Annual Fall Festival, Brews & Views, and so much more throughout the next 6 months.  Don't forget to visit us at the Belleayre Beach, take a ride on the Catskill Thunder Gondola, play some disc golf, or take a hike on one of our several hiking trails.  
---
Welcome to the Summer of 2023

Belleayre Beach
Beach Pass On Sale Now
Opening Weekend 
Saturday June 17 & 18
10:00am – 5:00pm
Closed from June 19 through Thursday, June 22
June 23 through September 4, 2023
Monday, Wednesday, Thursday, and Friday
11:00am – 6:00pm
Saturday and Sunday
10:00am – 6:00pm
Closed on Tuesdays
---
Scenic Gondola Rides
Summer Season: 
June 30 through September 4
Fridays
Noon to 7pm
Saturday & Sundays
10am to 5pm
Additional Summer Days
July 3, 4 & September 4
10am to 5pm
Autumn Season: 
September 9 through October 15
Saturday & Sundays
10am to 5pm
---

Free Music on the Belle
July 7 Through September 1:
Live Music Every Friday Night From 6pm to 9pm
July 7 – Guilty Pleasure
July 14 –  90 Proof Band
July 21 – The Four26
July 28 – Chris Washburne
August 4 – Jimmy Sturr & His Orchestra
August 11 – Soul Purpose
August 18 – The Trapps
August 25 – Eugene Tyler Band
September 9 – Die Schlauberger
---

Disc Golf
June 30 through October 15:
Disc golf is a fun and exciting activity for all ages and athletic ranges.  Our 18-hole course utilizes the lower and upper mountain.  The bottom 9-holes can be found around the Discovery Lodge and the top 9-holes are featured across the summit. Play them together or individually, the choice is yours!
To access the top 9 holes, guests can hike up the mountain or hop on the Catskill Thunder Gondola during normal scheduled hours. The bottom 9 holes are accessed on foot from the Discovery Lodge, the first hole starting up Discovery Way.
Read More »   ​​​​​​​
---
Hiking
Through October 15:
You will find something for everyone from challenging uphill climbs to the summit, to family-friendly strolls in our cross country area.  Enjoy picturesque mountain views and experience nature at its best.  Hikers can also access additional Catskill region hiking trails from the Belleayre Beach and Belleayre Mountain.
While hiking on the mountain, keep an eye out for our interpretive signage found throughout the trail network, enjoy the Story Walk across the summit from the Gondola to the Sunset Lodge, or play one of our hiking games.
Learn More  »   ​​​​​​​
---

Climbing Wall
June 30 through October 15
(Follows the Gondola Schedule):
Challenge yourself on Belleayre's Climbing Wall this summer!  Our 20′ climbing wall features 3 different climbing paths, challenging climbers of any age and ability, from kids to adults.  Our climbing wall has a hydraulic auto belay system that gently lowers climbers to the ground.
Read More  »   ​​​​​​​
---
Summer Event Calendar
The summer event schedule is jam packed of fun for everyone this summer.  
July 15 - JAWS - Movie Night at the Belleayre Beach
July 23 - Brunch at Belleayre
July 29 - Climb It For Climate Trail Running Race Hosted by The Running Kind
August 12 - Car Show Hosted by the Catskill Mountain Car Club with a 50/50 Raffle to Benefit the Juvenile Diabetes Research Foundation
October 8 & 9 - Annual Fall Festival and Brews & Views
View Calendar Of Events »   ​​​​​​​
---
Your Winter Season Pass Comes With Summer Perks
2023/2024 Season Passes On Sale Now
Your 2023/2024 season pass comes with plenty of summer perks at Belleayre, Gore, and Whiteface Mountains - from free gondola rides to discounts at the Belleayre Beach.   Season Passes are on sale at the same incredible prices as last season! There are also exclusive renewal/upgrade rates, and all pass purchases are eligible for our free 4-payment plan until August 9.
Don't miss the August 9th price deadline for the lowest Season Pass prices!
View Season Pass Lineup »   ​​​​​​​
---
Explore the Belleayre Region
We invite you to wind through the Catskill Mountains on the Scenic Byway that takes you on a journey through historical, scenic, and charming hamlets and villages - each unique with something special to offer. We look forward to showing you why the Catskills always feel like home.
Explore the Belleayre Region »   ​​​​​​​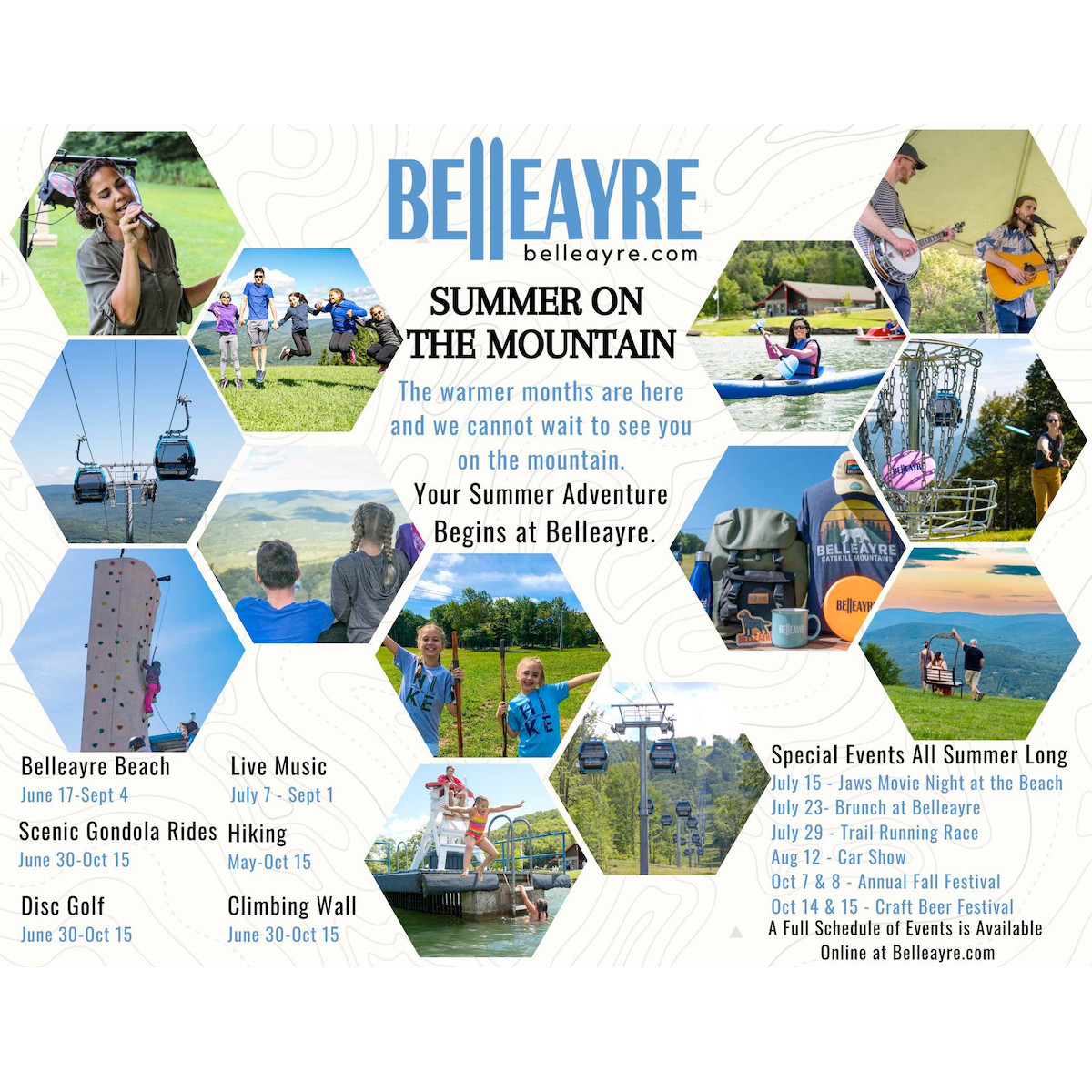 Belleayre Mountain