Ski & Stay Development Open House May 1 from 9am-11:30am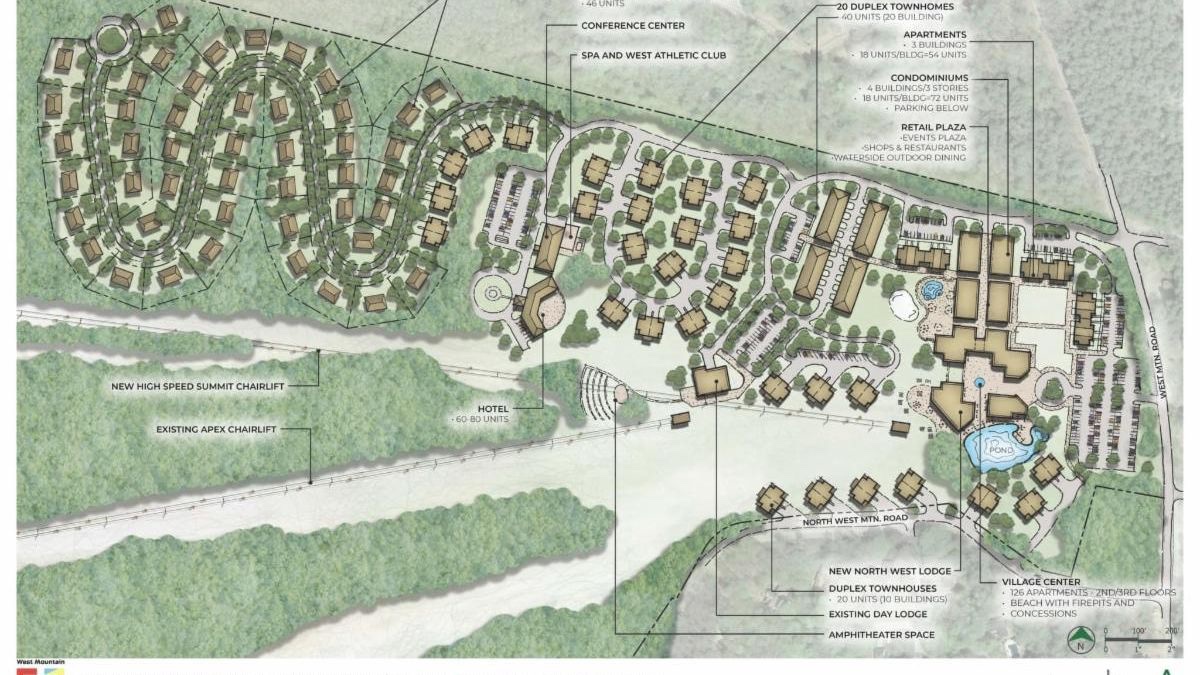 We cordially invite our local community & beyond to an in-person interactive walk-through of our proposed "The Woods at West Mountain" Ski and Stay Resort at West Mountain's NW Base pictured above. *(Event details below)
We are very excited to be working with Luizzi Companies, a family-owned company, headquartered in Albany, NY and its design build partner BBL Construction Services toward development approval, as we move from concept to reality. 
We were fortunate to meet company President Peter Luizzi Jr. & start the process of turning a shared vision to fruition over the last six months. Luizzi Companies has a storied history of success across Civil Site/Asphalt Construction, Building Construction/Development and Property Management. Recently, delving heavily into multiple high-end, large scale development projects offering "lifestyle" & "experience" communities such as Starbuck Island located on the Hudson River, between the Village of Green Island and the City of Troy NY.
We want to acknowledge and say thank you for the tremendous investment our Partners have made and the hard work of our employees to save and rebuild West and make this opportunity possible.
This will be a beautiful and tastefully done year-round resort ensuring the future & economic viability of West Mountain. We have heard some concerns about skiing access price point increasing. In response, with the cost of all components of operation going up West stays viable and affordable by having alternative avenues of revenue such as lodging, onsite commercial businesses, property management, etc. to offset these costs other than by just selling season passes and lift tickets. This is precisely why average season pass prices have fallen 2- or 3-fold over the last decade ay large resorts as conglomerates have swallowed up multiple ski areas with ski and stay real estate developments. West Mountain needs to be a destination resort to separate us and make us unique and allow us to compete. Our location is second to none, our community and surrounding areas are beautiful, and everyone loves a true "ski and stay" experience. To get that, currently out of area and local and regional skiers head East at exits 18 & 20 to VT, we want them to turn WEST! Locals and Capital Region patrons will also love the true break from reality a luxury ski and stay resort, with all the amenities, offers.
My 2 cents: I have grown up on West Mountain since I was 3 years old, my 5 older siblings had the pleasure & great experience of working at West for the Brandts. I sincerely wanted to see my home mountain rebuilt and saved when I, my wife Sara and our four children moved back home. West saved us too after a very difficult period. I also wanted West to compete and stand up to any premier family resort while having a strong and long future to hand off to the next "steward of the mountain" someday, when that time comes. 1,600+ kids enjoy after school programs, 120 kids Race Team and countless families and individuals learn to ski & ride and enjoy skiing & riding here-to me this is the next logical step for West Mountain, ensuring its future and it will be a big economic boost and feature enhancement to our area, branding Queensbury a true Ski Town.
*The event will open Sunday, May 1st from 9am-11:30am for in person walk-throughs, assisted with maps and diagrams provided and physical location markers denoting the various components of the resort. There will be staff and the Montgomery's onsite to answer questions and give description and color. (There will be side-by-side transport available for elderly or those with difficulty walking).
At 11:30am there will be a presentation describing the development and the vision for it, West Mountain and the Community of Queensbury and surrounding areas.
Refreshments: coffee, donuts, bagels, juice, etc. will be provided. Please come join us at the future site of The Woods at West Mountain Ski and Stay Resort while enjoying the beautiful view of the Green Mountains of VT from the "West Athletic Club & Spa and Hotel West Overlook" or while taking in the ambience of the "Lower 40" acres of the old Hudson Farm property. 
Sincerely,
The Montgomery's and our Partners
---
Season Passes on Sale Now Buy before 4/30 and save
Our 22-23 Season Passes are Now on Sale! Purchase an adult winter pass at full price and receive 10% off all additional winter passes for your immediate family members. Our popular Apex Summer Fun Add-On Pass for $150. The first discount cutoff ends at midnight on 4/30.
---
Now Booking Field Trips/Team Building Schedule your memorable group adventure today
Calling all teachers, camp, and team organizers – Make West Mountain your spring, summer and/or fall field trip destination! Nature walks, hiking, team building activities, Aerial Treetop (High Ropes) Adventure, and more. Boxed lunches available. Discounts available for field trip/team building groups of 10 or more.
Contact a Group Sales Representative at west@westmountain.com.
---
Summer Camps at West 3-day, 5-day Camp options available
West Mountain's wildly popular Outdoor Adventure Summer Camps will be returning in summer 2022. New in summer 2022, we will be offering a 3-day AND a 5-day camp option that meets from 9am-3pm. At camp, kids explore the great outdoors with our amazing camp counselors as they engage in activities including hiking, climbing and organized games and activities that will strengthen their bodies and minds. Summer 2022 Registration is Now Open! Register early as spots are limited. Price cutoffs apply for the 2022 camps. Register early and save! 
More Information HERE
---
Summer Fun at West Begins June 4 Tickets now on sale
Join us this summer and experience all that West Mountain has to offer. Whether it is mountain biking, aerial treetop (high ropes) adventure, mountaintop yoga, scenic chairlift rides, or mountaintop picnic packages – West Mountain has something for everyone. Tickets and reservations are now available. Summer Activities open to the public Saturday, June 4, 2022. 
---
Specialty Vendors Wanted Now accepting applications for Summer and Fall events
Calling all Specialty Vendors! West Mountain is now accepting vending applications from specialty art, clothing, jewelry, and food vendors to help make our Music on the Mountain Summer Concert Series (new in summer 2022) and Sixth Annual Fall Festival unforgettable. 
Music on the Mountain Summer Concert Series details and vending application HERE
Fall Festival details and vending application HERE
---
New WM Gift Cards Now on Sale Purchase, Reload, and Redeem Online
West Mountain's New Gift Cards are the best gift when you don't know what to buy!  Our new gift cards (black cards with the new WM logo), can be purchased in $25, $50, $75, $100 denominations, and redeemed online on any of our online products. They can also be reloaded in any amount using the reload feature located on the WM Shop Page. Card balances can also be checked on the same page.
Gift Cards can be redeemed online or at any West Mountain sales point. West Mountain Gift Cards cannot be redeemed for cash or credit. West Mountain Gift Cards have no expiration date.
---
Weddings at West are Spectacular Stunning Indoor/Outdoor Locations Available
West Mountain provides a unique venue and spectacular backdrop for weddings year-round. 
Weddings at West offer unique indoor and outdoor locations for couples to customize their event to make it a truly memorable experience. Our extensive menu and bar packages can be mixed and matched. 
West Mountain is a spectacular site to gather your family and friends for the celebration of your special day!
Begin customizing your wedding with our expert team of planners today! Learn More
---
Now Booking Summer/Fall Special Events Graduation Parties, Bridal Showers and More!
West is the perfect location for engagement, graduation, and birthday parties, rehearsal dinners, anniversaries and receptions, family reunions, baby showers and more. Let our professional in-house chef and staff make your event beautiful, memorable and stress free. West Mountain offers indoor and outdoor space for special events. Host your next event in the West Mountain Bar & Eatery, Main Lodge or NW Lodge, or outdoors, or under a tent with the mountain as the beautiful backdrop.
---
West Mountain Merchandise On Sale Online, In-Store
Great news! West Mountain merchandise is now available online and in-store. Don't forget to check out West Mountain merch in our retail shop in the Main Lodge or when you visit online.
We have plenty of items for both adults and kids, including tees, crews, t-shirts, socks, pennants, pins, sweat pants, hoodies, hats, gloves, snow pants, and more. Spend $100+ on merch and get a free West Mountain tote bag!
Note: some items may be sold out.
---
Our Health Measures
Since your well-being is at the heart of our concerns, several health and safety measures are in place and we ask for your cooperation. Read more here.
Click here for Employment Opportunities
Click here for our Hours of Operation
Click here for West Mountain Racing
---
About West Mountain
TRUE TO OUR ROOTS SINCE 1961
An established ski and outdoor activities year-round community with a family-friendly atmosphere, West Mountain is the choice for an authentic upstate experience on the mountain. Nestled at the foot of the Adirondack Mountains and conveniently located off I-87, West Mountain offers a quick drive to downhill satisfaction. Family-owned and operated since day one, West Mountain continues to evolve to meet the needs of families as well as skiing and riding loyalists and year-round outdoor enthusiasts. Improve your skills, have fun with your family and live an active lifestyle. 
We care about your family, your health and your enjoyment. The new West Mountain is the year-round destination for outdoor enthusiasts seeking convenience, affordability and a real Adirondack adventure. Welcome to West Mountain.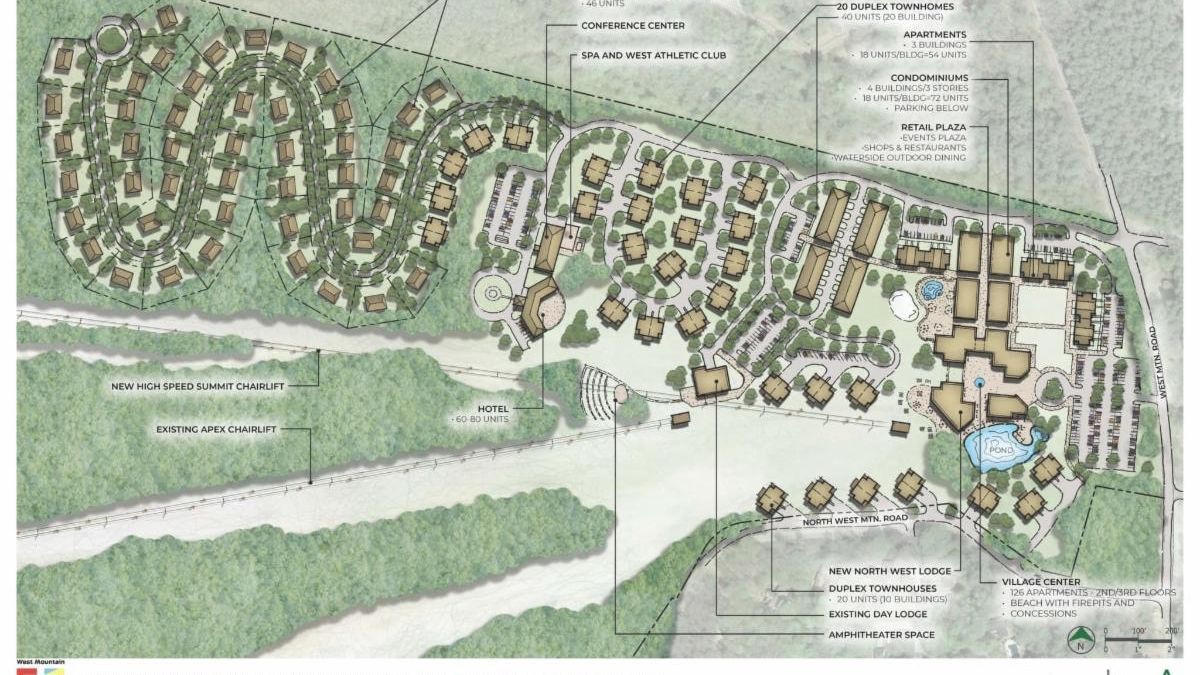 West Mountain