West Mountain's New Clean Mountain Initiative. Let's All Do Our Part.
Keep West Mountain Clean Support Our New Clean Mountain Initiative
Inspired by the Kelly Brush Foundation's and US Ski & Snowboard's Clean Hill Initiative that can be viewed here, West Mountain has launched its new Clean Mountain Initiative. Let's all do our part to Keep West Mountain Clean:
Please store all skis, snowboards and poles on the ski racks. *
Please watch your language. *
Please do not leave any garbage or gear on the tables, on the floor, or the ground. *
Please do not fight, bully, or trash talk on the property. *
Please do not steal or vandalize the property or other's property. *
Please do not smoke on the property.
Please leave your pets at home. *
Pease do not use our trails for uphill travel. *
Please be respectful of other guests and WM employees. *
*West Mountain reserves the right to remove skiing privileges and/or involve law enforcement for any of the above infractions. 
---
Midweek Lift Ticket Specials Hit the Slopes and Save
MONDAY AND TUESDAY 4-HR TICKET SPECIALS
Enjoy 4 hours of skiing and snowboarding for $35 on Monday's and Tuesday's non-holiday periods.
BREAKFAST + TICKET SPECIAL
Enjoy mornings at West Mountain with a $35 Breakfast + Ticket Special offered Tuesdays-Fridays 10 a.m.-12:30 p.m. (non-holiday). The Breakfast Special includes a 2-hour lift ticket, a breakfast sandwich, a fruit cup, and a large cup of coffee or hot chocolate from the West Express Café.
LUNCH/DINNER + TICKET SPECIAL
Enjoy afternoons and evenings on the slopes at West Mountain with a $35 Lunch/Dinner + Ticket Special – Tuesdays-Fridays 11:30 a.m.-7 p.m. (non-holiday). The Lunch Special includes a 2-hour lift ticket, a sandwich, a cup of soup, chips, and a large fountain drink from the West Express Café.
---
Après Ski in the West Mountain Bar & Eatery - Specials 7 days a Week
The West Mountain Bar & Eatery is open for sit-down dining and bar service during the 21-22 season. The 21-22 Bar & Eatery Menu, 21-22 Weekly Specials Listing, and 21-22 Burgers, Beers, and Bands and live music schedule are available here:
21-22 Bar & Eatery Specials HERE
21-22 Live Music Schedule HERE
---
6-Pack Ticket Books on Sale - Buy 6 Tickets for the Price of 5
West Mountain's popular 6-Pack Ticket Books are now on Sale for the 21-22 Season! Here's your chance to get 6 tubing tickets, 6 ski tickets or 6 aerial treetop adventure tickets for the price of 5.
These are great gift ideas ahead of the holidays -- or anytime -- that can be shared with family and friends.
---
New WM Gift Cards Now on Sale - Purchase, Reload, and Redeem Online
West Mountain's New Gift Cards are the best gift when you don't know what to buy!  Our new gift cards (black cards with the new WM logo), can be purchased in $25, $50, $75, $100 denominations, and redeemed online on any of our online products. They can also be reloaded in any amount using the reload feature located on the WM Shop Page. Card balances can also be checked on the same page.
Gift Cards can be redeemed online or at any West Mountain sales point. West Mountain Gift Cards cannot be redeemed for cash or credit. West Mountain Gift Cards have no expiration date.
---
Weddings at West are Spectacular
Stunning Indoor/Outdoor Locations Available
West Mountain provides a unique venue and spectacular backdrop for weddings year-round.
Weddings at West offer unique indoor and outdoor locations for couples to customize their event to make it a truly memorable experience. Our extensive menu and bar packages can be mixed and matched.
West Mountain is a spectacular site to gather your family and friends for the celebration of your special day!
Begin customizing your wedding with our expert team of planners today! Learn More
---
Now Booking Summer/Fall Special Events
Graduation Parties, Bridal Showers and More!
West is the perfect location for engagement, graduation, and birthday parties, rehearsal dinners, anniversaries and receptions, family reunions, baby showers and more. Let our professional in-house chef and staff make your event beautiful, memorable and stress free. West Mountain offers indoor and outdoor space for special events. Host your next event in the West Mountain Bar & Eatery, Main Lodge or NW Lodge, or outdoors, or under a tent with the mountain as the beautiful backdrop.
---
West Mountain Merchandise - On Sale Online, In-Store
Great news! West Mountain merchandise is now available online and in-store. Don't forget to check out West Mountain merch in our retail shop in the Main Lodge or when you visit online.
We have plenty of items for both adults and kids, including tees, crews, t-shirts, socks, pennants, pins, sweat pants, hoodies, hats, gloves, snow pants, and more. Spend $100+ on merch and get a free West Mountain tote bag!
Note: some items may be sold out.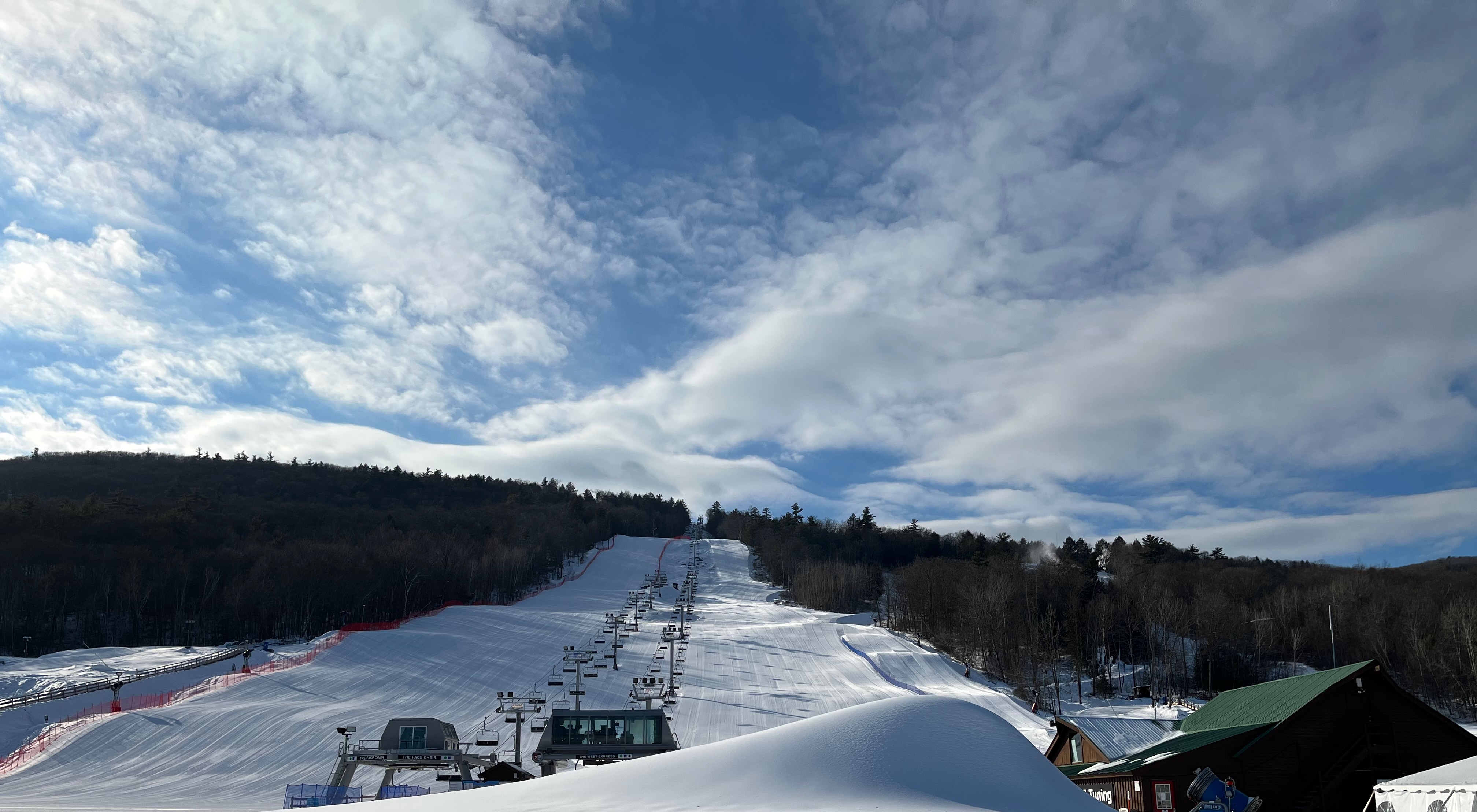 West Mountain