SKI NY Ski Areas Working Hard to Get Ready for the 2023-24 Season




Ski Areas have Collectively Made Millions of Dollars in




Improvements and Upgrades
Jamesville, NY: Ski areas around New York State have been working hard during the offseason to improve your skiing and riding experience including the expansion of snowmaking. They will continue to do so until opening day! Here's a summary of what's new at ski areas around our State.
Belleayre Mountain, Highmount NY: Belleayre has been making snowmaking upgrades including 27,000 feet of snowmaking pipe and new hardware. They added 250 HKD Tower Guns and 5 SMI Polecat snowguns which are more energy efficient and replace older equipment. With the new equipment Belleayre can make snow with minimal air consumption which will utilize their water pumping capabilities. Also, Belleayre Mountain's snowmaking team was voted to win the annual "I AM A SNOWMAKER" video contest too.
Belleayre has also replaced an older triple chair ski lift from the Overlook Lodge to the summit. They will also be adding a bridge over a parking lot to allow skiers easier access to multiple descending trails from a more accessible lift.
Belleayre Mountain has made changes to a few trails including allowing the Upper Cathedral Brook trail to return to forest. They are also modifying two trails to expand they're intermediate terrain high on the mountain and adding snowmaking too.Belleayre has also added a hybrid groomer with a winch for better grooming on steeper terrain.
Find out more about Belleayre Mountain at belleayre.com.
Bristol Mountain, Canandaigua NY: Bristol Mountain has opened a year-round freestyle training and competition facility called "Greater Rochester Amateur Athletic Federation (GRAFF) Summer Aerial Freestyle Training Site" which provides a dedicated training hub during the offseason with a water ramp, only one of 3 in the US.
Bristol has also redesigned and improved their Milky Way Bridge to continue to allow skiers access to the Milky Way Trail.
Bristol has upgraded the exteriors of the compressor building and water treatment plans that will integrate into the look of the Bristol Mountain base area.
Bristol worked on widening the Upper North Star trail with new snowmaking as well. They have also redesigned the Morning Star Chairlift terrain area to expand the loading facility for the lift. This they report will relieve congestion between two trails. Included will be new snowmaking infrastructure and new fan guns.
They also replaced infrastructure from the experience center to the learning facilities for easier and safer access.
Find out more about Bristol Mountain at bristolmountain.com.
Catamount Mountain, Hillsdale NY: Catamount has added new snowmaking pipe, two new pumphouses and installed 50 new snowguns too. They also expanded their snowmaking pond for more snowmaking capability too.
Catamount has added a new conveyor lift and been making improvements on their current lifts too. Since 2018 they have added 3 new lifts, a new lodge and base area with four snowmaking ponds, and other upgrades. They also added a new snowtubing park too.
Find out more at catamountski.com.
Four Seasons Golf & Ski Center, Fayetteville NY: Four Seasons has been getting ready for the 2023-24 winter. They have added a New TechnoAlpin TF 10 Snow Generator! Also, they got new ski rentals and adding another snow groomer too. Expect improvements in their Food & Beverage department as well.
Check them out fourseasonsgolfandski.com.
Gore Mountain, North Creek NY: At Gore Mountain they have expanded snowmaking at the North Creek Ski Bowl so they can make snow on multiple trails. They also added snowmaking capabilities to the Moxham trail and upgraded to more energy efficient snowguns on 46er as well.
Gore replaced their beginner skier lift with a conveyor-load quad lift. This lift is double the length too reaching up to 1912 feet and will unload at an easiest trail for beginners. At their beginner run they added two new conveyor surface lifts to make it easier for newer skiers to learn.
Gore also added new lockers, upgraded electrical in the base area and new flooring in guest services too.  For 2024-25 they plan to construct a new ski bowl lodge, chairlift and zipline along with a mountain coaster soon.
Find out more at goremountain.com.
Greek Peak Mountain Resort, Cortland NY: At Greek Peak they have invested nearly a million dollars in ski area improvements, and 2024 marks their 65th Anniversary Year!
Greek Peak has installed new snowmaking pipe and airline on their Hercules trail along with 57 new HKD snowguns with new hydrants. They replaced pumps in the east mountain pumphouse for double the water output to run their new high-efficiency snowguns. They will be able put out the equivalent of 16.5 football fields with a foot of snow in a 24-hour period. This year three of their five-year plan of remaking their snowmaking system.
They also put a new variable drive their Chair 1 lift. Also, Greek Peak upgraded trail lighting, purchased new rental equipment with additional helmets, skis and snowboards.
Find out more at greekpeak.net.
Holiday Mountain, Monticello NY: Holiday Mountain has undergone an ownership change. The new owners have invested millions of dollars in renovations and upgrades all over the facility.
Holiday Mountain has put in close to 10,000 feet of new snowmaking water and air pipe and put snowmaking on trails that haven't had snowmaking capabilities before. They also built a new pumphouse and put in new pumps.
Holiday Mountain has been working on re-opening dormant trails, renovating and upgrading their chairlifts as well as updating the base lodge.
Tubing operations are also being expanded for 12 lanes of capacity with a conveyor and 100% snowmaking coverage with lighting.
Find out more at skiholidaymountain.com.
Holiday Valley Resort, Ellicottville NY: Holiday Valley has invested nearly $9 million into the resort for the 23-24 season. The big project they have completed was the installation of the new High Speed 6-Pack Chairlift that replaced their Mardi Gras Quad.
Holiday Valley also purchased a new PistenBully 600 groomer to add to their fleet and they report it is more energy efficient and environmentally friendly as it is lighter than other models in their class.
Holiday Valley also has been working on upgrading snowmaking infrastructure. They have installed new air and water pipe for more efficient and effective snowmaking.
Finally, Holiday Valley has been renovating the Inn at Holiday Valley's rooms and resurfaced the pool at the Inn. Also, they have redesigned and renovated John Harvard's restaurant in the Tamarack Club to add space and allow better views of the slopes.
Find out more at holidayvalley.com.
Hunter Mountain, Hunter NY: Hunter Mountain has announced that they will be installing a new 6-person high-speed lift for the 24-25 season. They will be working on other upgrades to increase uphill lift capacity as well.
Hunter has been working hard this past summer updating snow fence, putting a new load deck in for the Kaatskill Flyer and rebuilding lift gearboxes.
On the snowmaking improvement front they have installed new automated SMI fan snowguns and HKD guns as well. They have also added a pump and done electrical upgrades.
Check out more at huntermtn.com.
Kissing Bridge, Glenwood NY: Kissing Bridge has been upgrading and installing new snowmaking water and air pipe to increase snowmaking capacity. They have also made other improvements this past summer too.
Find out more at kbski.com.
Maple Ski Ridge, Mariaville NY: Maple Ski Ridge celebrates their 60th Anniversary in 2024. They have begun a 3-year, $3 Million snowmaking upgrade project. They have installed a new snowmaking pipe system that was designed and installed during the summer. This will result in more efficiency and water use reduction and will give their snowmaking system the ability to increase snowmaking by up to 39%.
Maple Ski Ridge is replacing their diesel pumps with electrically operated ones and a new pumphouse has also been built. This will eliminate around 60 metric tons of CO2 from their annual emissions making their snowmaking more environmentally friendly.
Find out more at mapleskiridge.com.
Mount Peter Ski Area, Warwick NY: At Mount Peter they put an addition to the main lodge's cafeteria which triples the public space and adds more equipment to better serve hungry skiers and riders. They also expanded their menu offerings.
On the mountain improvements include a new pump house to allow longer snowmaking periods and improved capabilities. They also added more snow guns to their fleet.
Find out more at mtpeter.com.
Mt. Van Hoevenberg, Lake Placid NY: At Mt. Van Hoevenberg they have been working on upgrades to their snowmaking system as well as grooming and trail improvements.
Find out more at mtvanhoevenberg.com.
Plattekill Mountain, Roxbury NY: At Plattekill they have widened they're "I Think I Can" trail to add it to their beginner to novice trails. Also, they have added all new snowmaking to this trail and another they opened last season with 3,300 feet of new pipe.
Plattekill also improved the base lodge by adding new decking that goes around the base lodge and railing too up toward the triple chair along with widening the entrance to the Rental Shop.
Plattekill put in an all-new Maintenance Building that will house their snowcats called the "Cat Cage".
Plattekill is also revamping their website for launch in November with an online retail store so folks can purchase Plattekill logo items. Their online ticketing store will let skiers and boarders rebook tickets on their own too this season.
At Plattekill they are also putting in new ski and snowboard demo equipment that can be rented for up to two hours per day.
Lastly Plattekill has partnered with 25 mountains to offer free and discounted tickets for anyone who purchases a Plattekill Seaon Pass. They have also added "Platty Perks" to their season passes too that will get holders discounts to local area businesses and restaurants when the pass is shown.
Check out more at plattekill.com.
Titus Mountain, Malone NY: At Titus Mountain they have been making improvements to their facilities in preparation for their 2023-24 ski season. Titus added more slopeside Skibanas and a ski-in and out chalet as well.
Check out more at titusmountain.com.
West Mountain, Queensbury NY: At West Mountain they have been busy making improvements in the base lodge with new carpet. For the mountain they have added more lighting for night skiing and two new snow groomers too.
Find out more at westmountain.com.
Whiteface Mountain, Wilmington NY: At Whiteface their crews have been installing a new detachable quad lift called "The Notch" from the Bear Den learning center to just beyond the Legacy Lodge. This lift they note is only one of its kind in the East that is two lifts in one operating seamlessly. The Notch will provide skiers and riders at the Bear Den access additional terrain.
Whiteface re-oriented the Bear Den Learning Center Cub Carpet lift to make it easier for getting on and reduce traffic around both beginner lifts. They also updated the Falcon Flyer triple chair too.
Whiteface Mountain has made snowmaking upgrades for better efficiency and more power including the addition of 150 new high efficiency snow guns along with water and air lines to service them.
The Cloudsplitter Gondola got a new haul rope and grip hardware to be ready for the 2023-24 ski season.
Whiteface also added two new PistenBully 600W snow cats as well as other on hill transportation vehicles such as new snowmobiles and UTV's to replace older units.
Find out more at whiteface.com.
Windham Mountain Club, Windham NY: Windham Mountain announced their plans to develop the ski resort to a premier leisure destination in the Catskills. They will be making improvements in their food and beverage programs and  work to reduce lift lines. They will be debuting a new mid-mountain Italian Alps dining facility. Also, they will be adding townhomes and lots for land development.
Windham Mountain Club will be expanding and improving the existing Golf Course and adding swimming, racket sports and family activities.
Windham Mountain Club will continue their partnership with Adaptive Sports Foundation, the SHRED foundation and others. They expect the enhancements will create hundreds of new local jobs as they upgrade their offerings and evolves into a four-season destination resort.
Find out more at windhammountainclub.com.
Every ski area around the State is working hard to get ready for the 2023-24 ski season with improvements exisiting facilites with an emphasis on snowmaking.  We welcome skiers and riders  to the best place for winter sports, New York State!
About SKI NY
Ski Areas of New York, Inc. is dedicated to the continued growth of the New York snow sports industry by working on behalf of its membership to promote fair legislation, develop marketing programs, create educational opportunities, and enhance the public awareness of snow sports throughout the State and region.  Connect with SKI NY online at www.iskiny.com, www.facebook.com/ISKINY, and www.instagram.com/i_ski_ny/.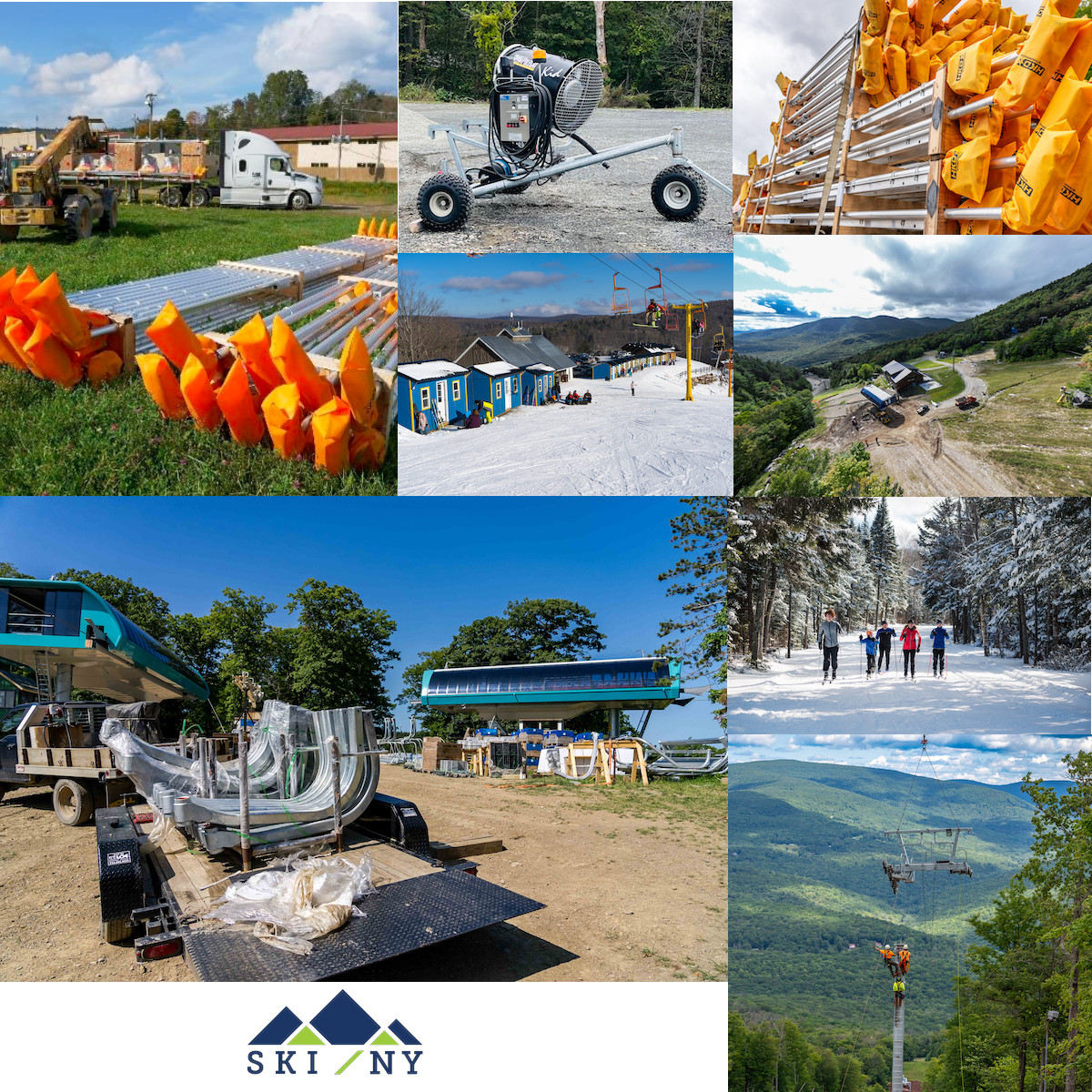 SKI NY