Drive with pride highlighting the sport you love with a New York State Ski License Plate that supports skiing in New York State.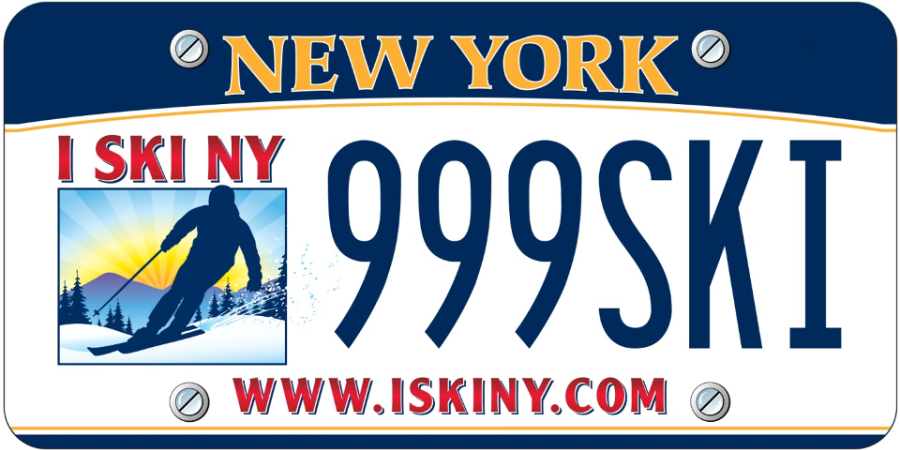 For nearly 20 years Ski Areas of New York has offered you, the skier or rider, a chance to drive in pride of the sport you love - skiing or riding down the snow.
We now have a new design with a new attitude! The plate is available for passenger and commercial class vehicles. It's also the first plate to be produced with the DMV's new 6 color printer. In addition to being available for passenger class vehicles, the I Ski NY plate will also be available with the International Symbol of Access (ISA) on it for any registrant with a disability who qualifies for such a plate. Any individual qualifying for an ISA must contact Custom Plates before submitting their application. You can order the plate through I Ski NY by filling out the MV-413 form and sending it to I Ski NY, PO Box 375 Jamesville, NY 13078 or faxing it to 315-696-6567. You can also scan and email the completed form to info@iskiny.com. The process does take 6-8 weeks. 
DMV CP30 Form (replaces MV413)
Fill out and send with your check made out to ISKINY and mail to:
ISKINY
PO Box 375
Jamesville, NY 13078
or fax with your credit card info to: 315-696-6567
$10 OF YOUR PLATE COSTS HELPS SUPPORT SKIING IN NEW YORK STATE
A plate with a number and SKI combination costs $70.00 with a $31.25/year recurring fee to the Department of Motor Vehicles. $10 of your $70.00 helps support skiing in New York State.
A vanity plate (with your letters or numbers) costs $101.25 with a $62.50/year recurring fee to the Department of Motor Vehicles. $10 of your $101.25 helps support skiing in New York State.
Those who have the previous version of the plate will be able to upgrade to the latest design for $28.75, either online or by calling Custom Plates at 518-402-4838.
First-time registrants can download the form above and fax it to 315-696-6567 or mail to SKI/NY, PO Box 375 Jamesville, NY 13078.
FREQUENTLY ASKED QUESTIONS
How long does it take? - It takes about 6-8 weeks to process before you will receive your plate from the DMV in Albany.
I have a registration about due for renewal. Should I renew first or do it with the plate purchase? - We suggest you re-register your vehicle and wait to place the order until you receive your new registration and/or plates.
How do I get one? - You can download the PDF and print it to your printer and send it with payment or you can send an email to info@iskiny.com with your name and address or fax number and we will send one to you.
What is the DMV's phone number to check on the status of my plate? - The number for the custom plate division is 518-402-4838.
What forms of payment do you accept? - We accept Visa, Mastercard, check, or money order payable to Ski Areas of New York.
I have some other questions, who can I contact? - You can email info@iskiny.com or call our office at 315-696-6550. Visit the NYS Department of Motor Vehicles website for additional information.